Mike Denney built his fleet by spotting an opportunity and grinding away. Now his daughter joins him to lead Denney Transport—and the trucking industry—into a future she sees as full of opportunity.
Erica Denney was part of two NCAA championship volleyball teams at Penn State. Her high school team, in Aurora, Colo., was 31-0. She knows what it feels like to succeed. She also knows what it feels like to grind. And the former Academic All-Big Ten selection knows how important new ideas can be to stay ahead of the competition.
As a young woman, competing in a field traditionally led by men of a certain age— Erica stands out. It's maybe no surprise that's she's willing to embrace change and innovation.
" I'm in my 20s, I'm a female, an up-and-coming millennial, I've been called a unicorn. And that's fine, that's something I'm willing to leverage"
Erica
Because Erica knows how to turn challenges into opportunities. She learned that right at home. "It's helped gain respect in conversations with people that, no offense, are kind of tired of hearing old white guys talk the same talk. I could say the exact same thing that he does, and there are certain people that are gonna hear it differently," she says. "It's shameful, but it's true."
Building a business
The "he" she's referring to is Mike Denney, her father, who founded Denney Transport back in 1990 and built it into a successful business the old fashioned way. Mike was a broker then. A guy who worked for him talked him into buying a truck to run freight for Walmart.

They hired a good driver who made things look easy. The business grew. Soon they had three trucks. But quickly Mike saw that hauling dry freight around Denver, Colo., was not going to get him where he wanted to go. Mike spotted potential in less than truckload (LTL) refrigerated freight. "Not many people did that, and the people that did do it were not very good at it," Mike says.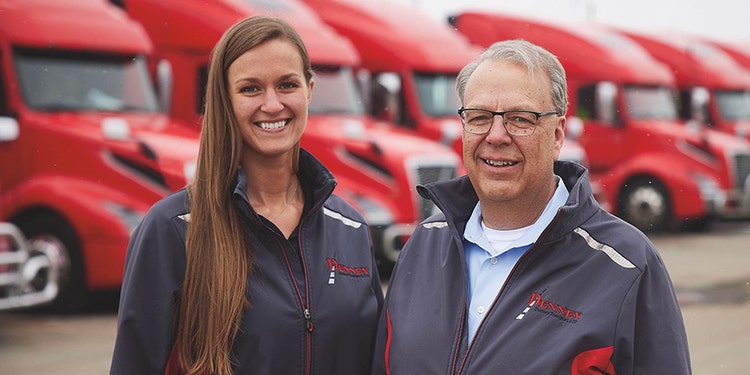 "So, we found our little niche there, and the margins were much better. There were a lot of small food companies in the Denver/Boulder area that were just sort of starting. All of those guys were doing LTL stuff every week. We just grew alongside of them, and some of them got very big."
Denney Transport grew in part, Mike says, "Because we were pretty dependable … especially with stuff that had a limited shelf life. And so, we were really successful with that business model."
The next generation
By the time Erica was finished with college, Denney Transport had switched from a Freightliner operation to Volvo Trucks. "I was buying the Freightliners in Kansas City and was getting them serviced in Denver by a local dealer who just didn't do a good job for us," Mike says. "My trucks would sit over there for days or weeks at a time."

Denney formed a relationship with a Volvo dealer in Kansas City who opened a dealership in Denver. "The relationship just got better as we went," Mike says. "In our experiences, Volvo stood behind their product and did whatever we asked."

"All the OEMs come into my office and say, 'We'll take care of you,' all this kind of stuff. And I always say to them, 'Look, I know what I have with Volvo. All I have from you is a promise.' And that's why I've been so loyal to Volvo all these years."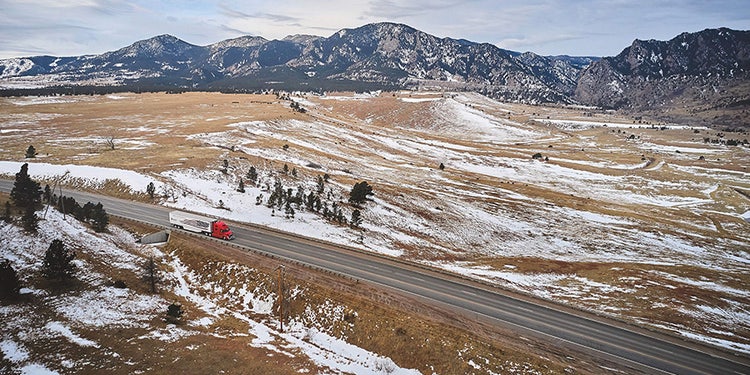 Today the Denney Transport fleet has grown to 125 trucks. Most are VNL 760s or 860s, though Denney runs a few local day cabs. That's what Erica stepped into as a sales rep, after pursuing an athletic career and an agribusiness degree in college.

"I was told most of the time growing up I probably would never work for him," Erica says of her father. After college she tried working in insurance, but the nature of the work was a little too slow for the go-go-go athlete in her. Then Mike rang. "I get a phone call from my dad basically saying, 'I need a new sales rep. I want you to come and talk to somebody. Let's see if this might actually work,'" Erica says. That was five years ago.
Extending influence
Though she's not a licensed commercial driver, Erica listens to drivers, how they talk about the trucks' beds or their seats. She intuitively understands how Volvo Dynamic Steering helps drivers handle Colorado's crosswinds and potholed pavement. Erica has a clear understanding of why the fleet is Volvo.

"I hear it from our drivers all the time. A vast majority of the time, they all love the Volvos. I mean, it's the closest you're going to get to a luxury vehicle within a truck, from what they have to say," she says.

She also talks to people in the industry, networking within the American Trucking Association (ATA) to try to influence the direction transport is moving. She's liaising with government officials to help them understand the realities of trucking.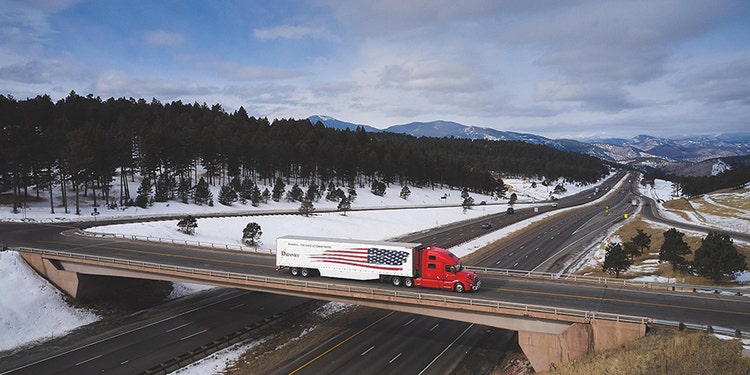 "There's no doubt that in the future, we need to clean up what combustion engines do. We do. Just for the future of the planet, the future people," Erica says. "That's all good and fine, but what I'm most passionate about is trying to figure out what actually works for the industry, and how to communicate that with government officials so that it's done in the correct way."

As Mike begins to reflect on the company he has built over the decades, he's also watching in admiration as Erica starts looking ahead. She's examining the complexities of electric and hydrogen-fueled transport. She's actively promoting Trucking U, an ATA program designed to open communication, enlighten and engage university students who might be interested in logistics or other aspects of the industry.
New ideas with old roots

By hiring her, Mike has come to understand why people like his daughter will be crucial to transport going forward. "In our company, it's changed a whole bunch since Erica's come on board," Mike says.

"We've been lucky enough to have almost no turnover in the office. That's a good thing, except you never get any new ideas. I mean, it kind of slapped us up on the side of the head. [Erica] came in and started asking questions. Yeah, why didn't we think of that? I
mean, it was ... that's always the way we did it."
"Well, it made us kind of do a little self-searching. And we've already changed a lot. We're getting better quality people in the industry now. We, especially Erica, are encouraging them to get involved early through ATA events. It's exciting to see that there are lots of smart, capable people with passion joining us. All that is good for our industry."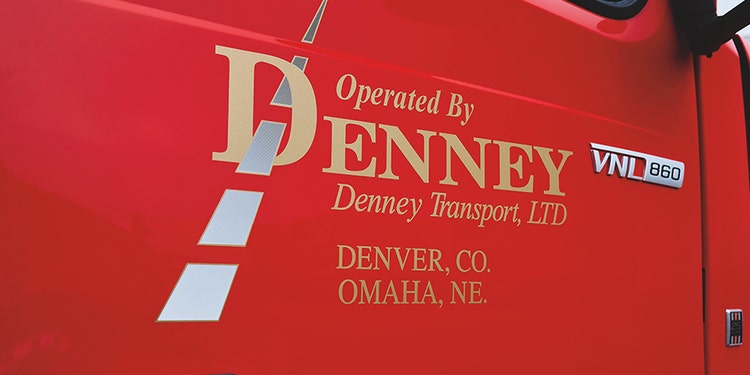 Erica, meanwhile, keeps wading deeper into the industry, working on the problems, leveraging that unicorn thing when she has to. But she does it all with a firm understanding of how her father built things so far.

"I go to a lot of events, and I say, 'Yeah, we do refrigerated LTL.' And I get looked at with people going, 'Are you crazy? Do you just like punishment?'" Erica says. "And it is hard. But we're good at it, and people know it. And hanging on to that reputation, hanging on to what he has built, and the respect across the country, because of that, I mean, that's the ultimate goal to me. Obviously, you want to grow, and you want to be successful. You want this, and you want that, but continuing on without forgetting what our roots are will always be critical."
DENNEY TRANSPORT, LTD
**Based in:**Commerce City, CO
Founder:
Mike Denney

**Company started:**1994
**Number of employees:**170

**Region covered:**Front Range and national routes; Terminals in Denver metro, Omaha, and Riverside

**Number of trucks:**125 tractor-trailers

**Major loads:**Refrigerated LTL and truckload freight
Related Content
Driving Progress
Get the latest product information, Volvo Trucks news and updates delivered. Sign up below.
ExceedingExpectationsSignup