Nova Scotia's Tom MacDonald Trucking is reaping the benefits of the new D13TC technology.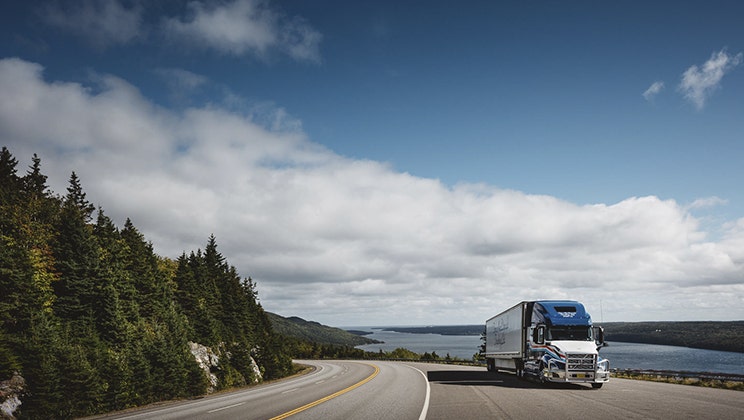 Putting your own name on a business can be a delicate thing. On one hand, you're assuring potential customers that their relationship with your business is going to be personal, built on mutual trust and communication. On the other hand, you're placing all the accountability and responsibility squarely on one person—or, in the case of Tom MacDonald Trucking, one family. "Our name has always been our trademark, our signature," says Ryan MacDonald, current President and General Manager of Tom MacDonald Trucking Ltd. "When people see our trucks, it's unmistakable who they belong to and what they stand for. That gives our company, and our family, a great sense of pride."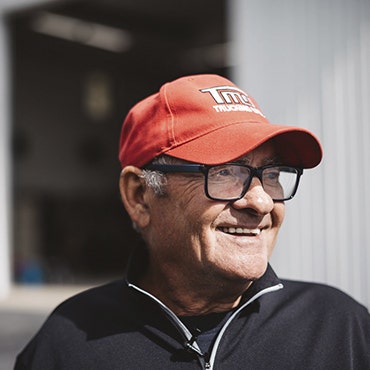 Tom MacDonald Trucking has survived and flourished for more than 50 years because of the family's commitment to their customers.
To understand why MacDonald feels so strongly about his family's business, you have to go back to the beginning. "Everything really got started with my grandfather back in the 1950's. He had the first car carrier on Cape Breton Island so he brought all the new cars onto the island. Unfortunately, he died at a young age, when my father was only seventeen, and at that time my dad simply had to go to work." His father, Tom MacDonald, started with just one dump truck–hauling rock, gravel, and sand, and slowly built that operation up to two trucks then three. "I can remember stories my mother told me about them having to find co-signers to help with financing to get that second and third truck. It wasn't all that easy back then." But Tom believed in a strong work ethic, and that determination helped grow the company to a fleet of more than twenty trucks, delivering dairy and frozen goods all over Newfoundland.
Unlike many of their competitors, the success of Tom MacDonald Trucking was not based on salesmanship but through a commitment to their customers. "My father didn't really practice any aggressive marketing. He just provided his customers with the service they needed and our business was able to grow alongside them." That core value of hard work and dedication is something he sought to instill in his own three children. "From the age of twelve, my brothers and I were always around the shop, washing trucks and doing odd jobs because it was always important for my dad to show us the true value of work and responsibility."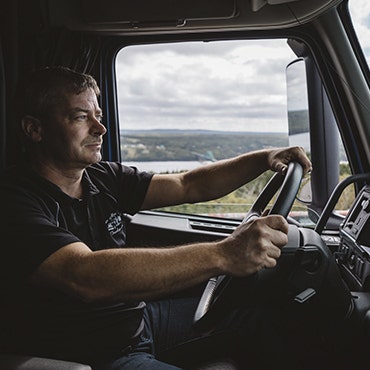 Tom MacDonald Trucking driver Darren Youden has more than a decade of experience hauling freight. The new VNL has quickly become his favorite truck to drive.
MacDonald continued working for his father through high school, making local deliveries for the company as young as sixteen. When he began attending college off the island, he would still come back home in the summers to run routes and make enough money to fund his next year of school. As he finished his senior year and began to think about where his future was, he felt the island and the company calling him back home. "I saw the life the business provided for my father and I wanted to provide that same life for my wife and children." So MacDonald returned to the family business full-time and started working dispatch. After ten years, he began to notice his father taking more time off, going on longer vacations, while giving MacDonald more and more responsibility. It wasn't long until he was given the chance to run the whole business, and with his brother Glen on board to help with operations, MacDonald stepped into his father's role full-time.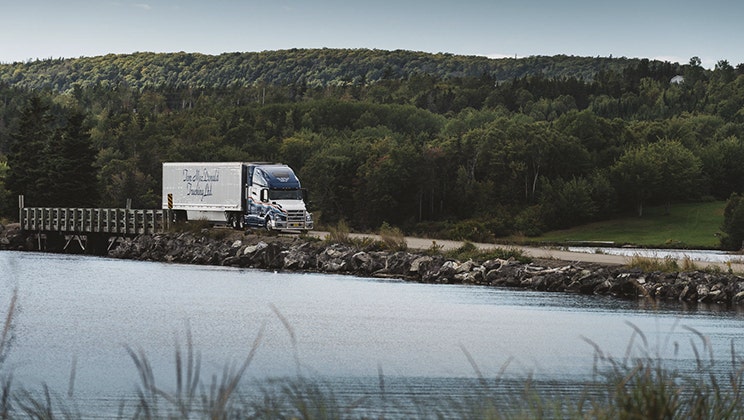 "Every truck that we replace with a VNL, we're seeing upwards of 2 miles per gallon fuel savings."
Ryan MacDonald
President, Tom MacDonald Trucking
With the keys in his hands, MacDonald was driven to show his father that he'd made the right choice to keep the company in the family. That meant growing the business. So MacDonald's first challenge was to figure out how to reduce operational costs. "Fuel is, by far, our biggest expense. It's something we monitor on a weekly basis." With a fleet of trucks that each travel roughly 125,000 miles per year, finding new ways to improve fuel efficiency is what led him to Volvo Trucks. "Last August we had the privilege of visiting Volvo Trucks' Customer Center in Dublin, Virginia where they showcased the VNL, featuring the new turbo compounding engine. The new technology immediately had my attention." Resetting industry expectations of performance and power from turbo compounding, the D13TC engine captures and harnesses energy normally lost through the exhaust and converts it into mechanical energy. Paired with Volvo's new I-Shift technology, owners can expect to see up to 7.5% fuel efficiency improvement, as well as increased power. What MacDonald saw was a smart long-term investment and decided to order five new VNLs. Talking to him more than a year later, he has no regrets. "Every truck that we replace with a VNL, we're seeing upwards of 2 miles per gallon fuel savings, which accumulates to over $20,000 savings per truck each year. That's money we can reinvest in our drivers by increasing their wages, their pension plan, and other incentives that help retain and attract new drivers."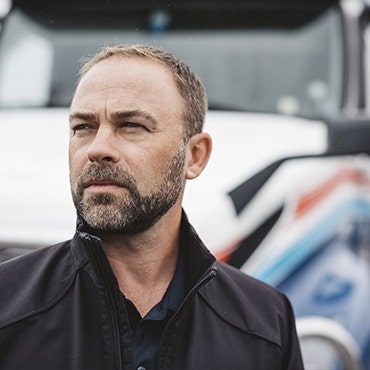 Keeping drivers satisfied and on the job has always been an essential part of Tom MacDonald Trucking's success. "Drivers are the face of the company. They're the first ones to meet the customer and it's important to maintain the drivers and those relationships," says MacDonald. Aside from the significant fuel savings the VNL offers, he knew that Volvo's innovations in driver comfort and productivity would be well-received back home. "Not only do we provide our employees with a pension and competitive wages, we provide them with the best equipment. The comfort of the VNL has gone a long way in making that possible." Darren Youden, a long-haul driver for the last 10 years, can attest to how much a difference the new trucks have made for his ride. "I was a little leary about making a change. But a week after my first run, I knew I was in love. I wouldn't go back to anything else." Youden cites the new interior features, such as the reclining bunk and fold-out table, which gives him the space and functionality to prepare and eat all his meals on the truck. "Before driving the VNL, I did very little cooking. But now I can bring my hot plate and portable oven and cook everything on the truck just like I'm at home."
By choosing to invest in the latest technologies for his drivers, MacDonald has been able to continue the tradition his father started that helps define what success looks like for Tom MacDonald Trucking. "We want to do more for our employees than just get by. We want to provide while they are drivers and also provide for them and their family after they retire. They are more than just our team members. They an extension of our family."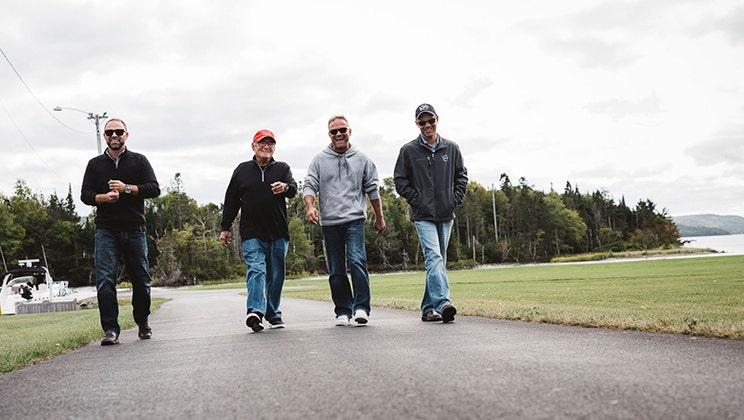 Talking about his father, who still lives on the island and spends his days of retirement building boats and working on projects around the community, MacDonald speaks with great reverence. When asked what motivated a man who never finished high school to build his own company and inspire his children to join him, he offers a simple explanation: "My father is always trying to figure out how to lift things that are too heavy." When you think of where Tom MacDonald Trucking began, and the discipline of hard work that Tom instilled in his children that has allowed the company to continue to grow under his son's leadership, it's actually a perfect summation of how this family-run business continues to find success. And just as Ryan MacDonald is proud to see his family's name on the trucks that move his business, Volvo Trucks is proud to be a part of the ride.
Related Content
Driving Progress
Get the latest product information, Volvo Trucks news and updates delivered. Sign up below.
ExceedingExpectationsSignup