Joel Morrow and his new VNL, Purple Haze, deliver real-world performance in Utah test drives.
It's one thing to claim you can deliver performance and efficiency without compromise. It's quite another to put it to a real-world test. Volvo Trucks recently asked Joel Morrow to take his new, boldly colored VNL 860, outfitted with I-Torque, to Utah. Waiting for him was a group with more than 10 million miles of driving experience, ready to put I-Torque through the paces on some of the country's most demanding terrain. "We knew this was an experienced group of drivers," says Duane Tegels, Volvo Trucks product marketing manager-powertrain. "We chose this area of the country so they could really get a feel for how I-Torque performs on a variety of routes."
"We chose this area of the country so they could really get a feel for how I-Torque performs on a variety of routes."
Duane Tegels, Volvo Trucks Product Marketing Manager – Powertrain
The individuals selected for this special test drive included long-time driver Al Hemerson and his wife Kym; driver and founder of S.H.E. Trucking, Sharae Moore, and popular satellite radio host and former driver/fleet owner Tim Ridley. Together they'd spend two days with Joel Morrow in the big sleeper he's named Purple Haze, traveling interstates and smaller highways west of Salt Lake City.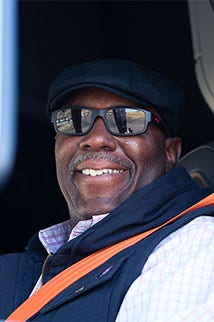 TIM RIDLEY, RADIO HOST AND
FORMER DRIVER/FLEET OWNER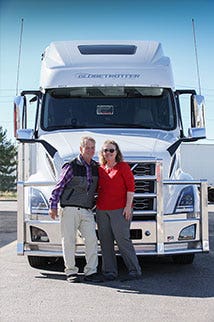 AL AND KYM HEMERSON,
HUSBAND AND WIFE TEAM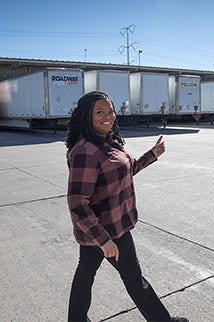 SHARAE MOORE, DRIVER AND
FOUNDER OF S.H.E TRAINING
What if a driver designed a truck
"When I was previously with my family's fleet at Ploger, we were constantly trying to predict what the market would be like over the life-cycle of the trucks we'd buy," says Joel Morrow, now an independent owner-operator and truck spec consultant. "But we always ran up against the same issue. We were either choosing specs that were great on fuel-efficiency or ones that made the drivers happy. There just wasn't an option that did both."
I-Torque came out of a series of conversations between Volvo engineers and Morrow, along with other customers. The goal was to finally achieve best-in-class fuel efficiency over a wide range of road speeds and routes, while not sacrificing the power that satisfies drivers.
"It's a unique powertrain solution that allows the D13TC engine and Volvo I-Shift transmission to reach their full potential on almost any road or application," says Tegels. "We put our best engineers in the cab with Joel and put his feedback together with the data. Eventually we created a near perfect shifting pattern that finally offers the best of both power and efficiency."
The result is a 31% increase in fuel-efficient speed range and up to 8.5 miles per gallon even at top road speeds. The D13TC/I-Shift combination is complimented by Volvo I-See predictive cruise control and rear-axle ratios as low as 2.15:1.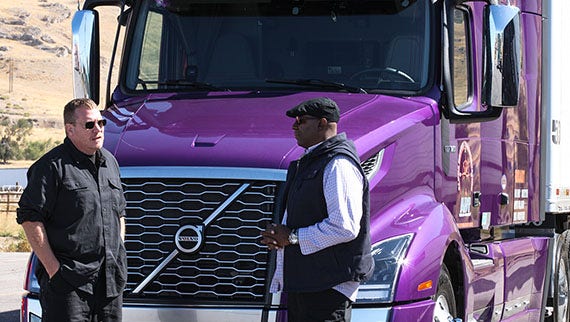 Taking a break at a truck stop outside of Salt Lake City, Joel Morrow and Tim Ridley compare notes on Purple Haze's performance in the I-Torque test drive.
Proof is in the performance
"There's probably no one that's been a more vocal supporter of old-school, manual transmissions than Tim," laughs Joel Morrow. "But we got half way up the first mountain and he looked over to say, 'I'm sold'."
"Tim" is Tim Ridley, popular host on Sirius XM's Road Dog channel weekdays 5-7AM and the first test driver in Purple Haze. He was familiar with Morrow's efforts before coming to Utah, but until this trip he has famously been a supporter of old-school specs for his rigs.
"I came back from the trip and told my listeners, I am a changed man," says Ridley. "It's just mind-blowing. I drove from Salt Lake to the Nevada state line, and I just never felt the hills. Today's drivers that are focused on fuel efficiency but still want a truck that can pull…they are going to take notice of this Volvo."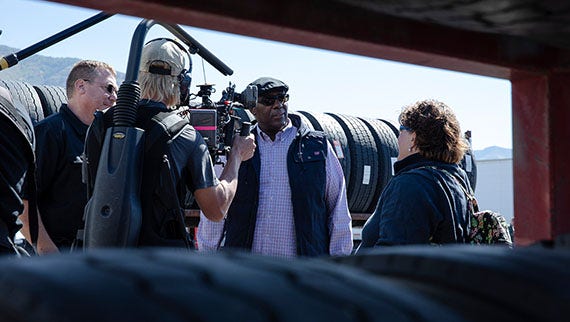 Test driver number two was Sharae Moore. Moore began her driving career in 2014 and it eventually led her to found S.H.E. Trucking, a national community that encourages and supports women drivers. A back injury two years ago meant that she's recently spent more time as a driving trainer than delivering loads. Purple Haze has her re-thinking her schedule.
"I got behind the wheel of it and I just wanted to keep going," says Moore. "I've driven those roads a lot over the years. This was the first time going up those hills where I wasn't stressed when I was driving. With the automated transmission, all I had to do was hold the wheel and look out the window. I also got surprised when I looked down at the fuel gauge, I told Joel it doesn't seem like it ever moved off full."
Sold on the savings
Al Hemerson and his wife Kym first heard about I-Torque when Joel Morrow was being interviewed on the radio more than a year ago. They've lived together on the road for the last 14 years covering more than 150,000 miles annually and they followed Morrow on satellite radio. The idea of improved fuel efficiency got them interested and it led them to spec an early version of I-Torque on their own VNL.
The Hemersons traded experiences with Morrow as they drove Purple Haze, "Drivers should experience the adaptability of the I-Shift. Going up the mountains it's smooth and coming down the hill there it was an 8% grade, but we never touched the service brakes the whole way. The overall drivability is just phenomenal."
As they finish their time in the cab, Hemerson shares that their VNL is now saving the couple thousands a month in fuel as well. It's the kind of success story that Morrow hopes to hear more of as he travels the country making his own hauls.
"This was a great weekend, but it's just the start," Morrow said as the end of the test drives. "We've haven't put 10,000 miles on Purple Haze yet and she's already getting nearly 9.0 MPG. Once that engine is broken in, I can't wait to see the numbers it achieves."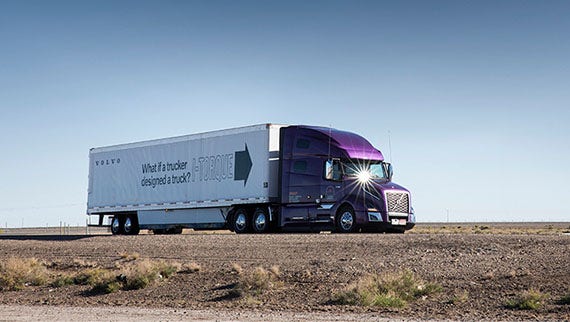 No Compromises
New film series debuts on social media in February

A documentary team followed Joel Morrow as Purple Haze and I-Torque was put to the test over two days in Utah.

The concept for the new film series, NO COMPROMISES, was developed by the creative team at Baldwin&. "I-Torque provides a unique driving experience," says Bob Ranew, Baldwin& creative director. "It's hard to believe the performance until you are in the driver's seat, and this really captures it."

Each driver spent time behind the wheel over the weekend with Morrow, cameras watching every mile.

"We really wanted to give viewers a chance to see the drivers' honest reactions as they drove that truck," says Will Bender, digital marketing manager at Volvo Trucks. "It's a given that real drivers aren't going to hold anything back with their opinions…that's what we wanted to show."

The four-part series debuts in February and will be available on Volvo Trucks' social channels, as well as on volvotrucks.us.
Truck Profile

Name: Purple Haze
Model: 2022 VNL 860
Engine: D13TC
Transmission: Volvo I-Shift
Rear-axle ratio: 2.15:1
Weight for test drive – 73,000 GCVW
MPG during first 10,000 miles: 8.8 average
Related Content
Driving Progress
Get the latest product information, Volvo Trucks news and updates delivered. Sign up below.
ExceedingExpectationsSignup