Volvo Trucks leads the industry in connectivity, and our newest technologies are paving the way for a brighter today and tomorrow.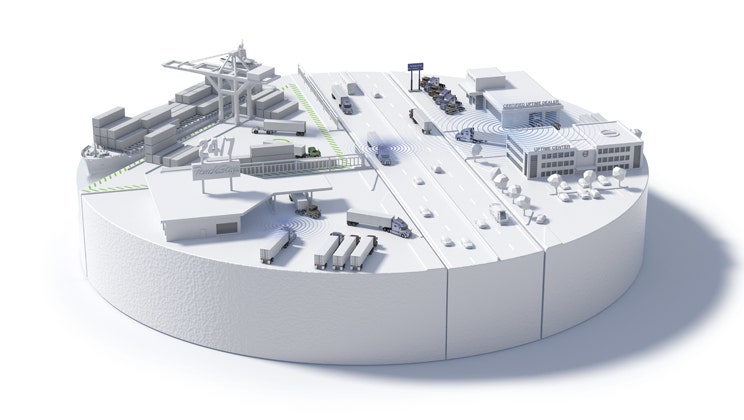 No one is more committed to shaping the future of trucking than Volvo Trucks. More than a decade ago engineers in Gothenburg, Sweden and Greensboro, NC had a vision for smarter transport solutions. They set out to make that vision a reality. Years of tireless effort have made us the clear leader in connectivity today. And real-time connections are opening the door to amazing possibilities, from proactive solutions to fully autonomous operations like the new VERA.
The heart of our connected world begins with the vehicle, because nothing is possible without Volvo's state-of-the-art telematics system.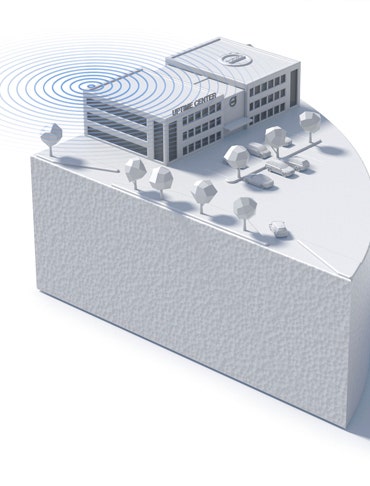 Volvo allows customers to perform over-the-air software and parameter updates. Updates that previously required a dealership visit can be done remotely in as little as 10 minutes. It's the first true over-the-air solution from a truck OEM.
"Connectivity is all about information. We're taking data from the trucks and using it to help our customers improve their operations. The more insights we can provide, the more important it will be to them," says Mark Curri, Senior Vice President of Uptime and Customer Support at Volvo Trucks. "At first, some fleets didn't realize the significance connectivity could have on their business. They were concerned about the complexity of new technologies. But once they experience it, they're all in. And they want more."
Today our trucks communicate a potential fault code before anything appears to the driver. Linking customers, dealers, and Volvo support staff through a common interface vastly improves overall uptime performance for fleets.
Even more recently, Volvo introduced a new connectivity capability. Known as Remote Programming, fleets can perform over-the-air software and parameter updates in minutes, enhancing the existing performance and efficiency features on their vehicles.
Today's connectivity features are integrated into each Volvo truck as it is built. Two years of service is included in the price of the truck. The features are covered by the Volvo warranty, and serviced at Volvo dealerships.
By making it part of the truck from the very beginning, with no third party intervention, more information can be reliably transmitted to and from the truck.
For example, if a fault code is detected, it is instantly sent to Volvo in real time. For certain codes, Volvo will contact the fleet immediately, so they can take action as soon as possible. "We help them make decisions before something happens," Curri explains. "It's just what a business partner does."
Quicker and more comprehensive diagnostics lead to faster repairs, done right the first time. That translates into improved uptime and profitability for fleets, of course, but there's much more to it than that. Analyzing and sharing information with fleet customers can shed light on an entire range of issues, from driving habits to fuel use to truck performance under various load conditions. "The market will demand even more of this information in the future," says Curri. "It will simply become a part of the business."
Remote downloads are a big part of this new connectivity as well. A driver only has to park the truck in a safe place for a few moments to receive software that can add new features, update existing programming—even improve fuel efficiency. All without diverting the operator from the scheduled route.
"It used to be that you'd have to take a truck out of service for two and a half days to install a software update," explains Conal Deedy, Director of Connected Vehicle Services at Volvo Trucks. "Now a driver can do it in around 10 minutes while he's on his coffee break. It's a game changer, being a big point of differentiation for Volvo and providing true value to our customers."
Balancing technology with human expertise.
As amazing as new technology can be, the human element is even more important. "We're really committed to improving the customer experience with our trucks," Curri acknowledges. "But we do that through our people. They bring added value to the equation because they are an integral resource as well."
The Uptime Center located at Volvo Trucks headquarters in Greensboro, NC is one example of this commitment. Every one of the 40 Volvo Action Service agents there is an expert on Volvo trucks. They are prepared to share their knowledge 24/7/365. There are no forwarded calls or third party referrals, just dedicated professionals who can assist at a moment's notice. "Every case goes to directly to a human," says Deedy. "Then we give the customer options on how we can best support them."
Now Volvo sales and service professionals are receiving similar training, so they can bring data and recommendations directly to the fleet owner. "We want to flip the conversation and make it proactive. It goes from 'here's what we see' to 'here are some solutions you can implement immediately,'" says Curri. "We're empowering our people to help businesses strengthen their bottom line. That's huge."

"We expect electrification to be an important part of this connected future. And we've got great partners to bring this technology to our customers."
Keith Brandis
Vice President For Product Planning
Connectivity leads to new possibilities.
Volvo Trucks recently announced that the first all-electric trucks would debut in California in 2019 and go on sale in 2020. Designed for cities seeking cleaner, quieter commercial transport, the VNR Electric is another example of the future coming on quickly.
Introduction of this new VNR is a partnership, known as LIGHTS (Low Impact Green Heavy Transport Solutions) between the Volvo Group, the California Resource Board's South Coast Air Quality Management District (SCAQMD), and industry leaders in transportation and electrical charging infrastructure.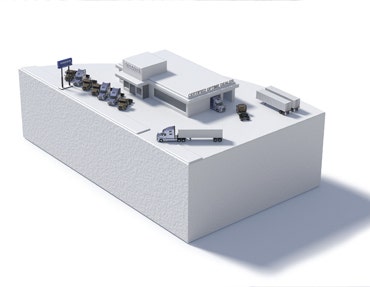 Volvo Trucks' advances in connectivity and telematics have already led to dramatic reductions in time spent at dealerships for service. On-board diagnostics make truck performance data available to the dealership before a vehicle arrives for service.
"We're working with many different parts of the electrification network to make this happen," says Keith Brandis, Vice President for Product Planning at Volvo Trucks. "We're putting an entire ecosystem together, and that takes multiple partners."
Once electric trucks are in use and on the road, connectivity will be a key component of their success. "These trucks will have advanced new systems and use connectivity to maintain and monitor them," Deedy explains.
"Fleets will need to be aware of proper battery charging, load capacity, vehicle range, route analysis, and many other points of information. All-electric vehicles may be a new technology, but for businesses that employ them, it will still be all about uptime and productivity."
\
Autonomous vehicles use connectivity to "talk" to each other.
Volvo also recently announced the development of an autonomous, or self-driving, truck. Vera is unique in that it is all-electric, has no cab, and will at first be employed in specific use cases, such as ports or warehouse districts. Traveling at slow speeds to ensure safety, Vera will carry large loads along fixed routes. Vehicles are designed to locate their current position, analyze what is happening with other vehicles, and accurately respond to real time circumstances. Combining the benefits of three technologies—automation, connectivity and electro mobility—will create optimal flows in transportation and logistics operations.
Brandis stresses that the arrival of autonomous trucks is not a future world of robots, devoid of humanity. "We know the value of the professional truck driver, and they will be needed for many years to come. Most trucking will still require all the different duties a driver performs, from the safety checks to analyzing conditions and making the proper choices."
He sees the creation of new technologies as an ongoing process, creating layers and building off what has already been accomplished. "So we're bringing in the lower levels of automation, going from cruise control, to adaptive cruise control, to lane keeping. As we progress to higher levels, we work in confined areas where the variables are fewer, like in mines or on construction sites."
The future looks very bright indeed. Expanded connectivity, the addition of new technologies, and—as always—the emphasis on human expertise, will ensure safer roads, enhanced uptime, and increased profitability for businesses. Or as Curri sums it up, "that's why Volvo is committed to continuing our leadership position in these areas, making sure our customers get the best technology first."
Related Content
Driving Progress
Get the latest product information, Volvo Trucks news and updates delivered. Sign up below.
ExceedingExpectationsSignup