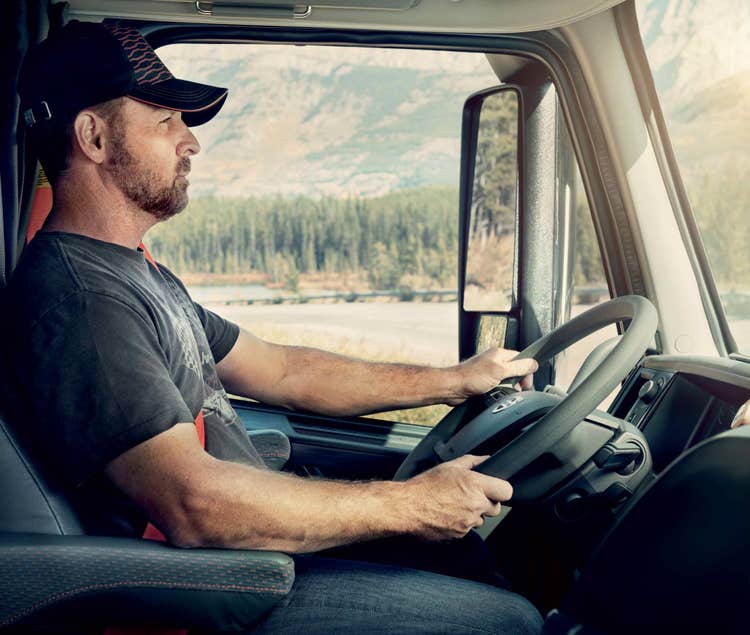 Safety
Toward Zero
Simply put, safety has been one of our core values and a top priority since the earliest days of Volvo Trucks. Our vision Toward Zero Accidents means that no Volvo truck should be involved in an accident. We're not there yet, but we continue to lead the way in improving road safety – especially when it comes to the interplay between driver, truck, and surrounding traffic.
Since 1927, safety has been the guiding principle for everything we build. We invented the three-point safety belt and were the first to introduce it as a standard feature in trucks. We also introduced the driver-side airbag and are still the only truck manufacturer to include it as standard in every vehicle we make. Building on this legacy, Volvo has upgraded to standard LED lighting for improved visibility, our standard forward collision warning and mitigation for emergency braking situations, as well as optional seat with side airbag for rollover protection.
LED lighting
Highlighting safety.
To improve visibility and reduce maintenance, Volvo employs LED bulbs for all exterior and interior lighting. All models feature LED high/low beam headlights, as well as LED turn, marker, and parking lamps. The premium headlamp also features a "signature" LED daytime running light.
Volvo is safety
It's a matter of life.

Active Safety
Volvo Active Driver Assist.
Volvo Active Driver Assist is in constant operation while the vehicle is in motion, providing stationary object detection with stationary vehicle braking, which sends audible and visual warnings if a metallic object is detected in front of the truck. Braking assist will be applied—at speeds greater than 15 mph—when the system recognizes the stationary object as a vehicle, independent of whether cruise control is engaged. The driver will receive a warning up to 3.5 seconds before an imminent impact with the vehicle, and, if no action is taken by the driver, Volvo Active Driver Assist will automatically engage the brakes.
** Certain components and functionality differ on VAH models.

Passive Safety
Leading-edge safety. Protecting your most important asset.
Volvo stays on the cutting edge of safety technology, ensuring that our trucks remain the safest on the road. Built to exceed the demanding Swedish Cab Safety Test, our High-Strength Steel (HSS) cabs have the industry's highest strength-to-weight ratio, protecting the driver by absorbing as much crash energy as possible.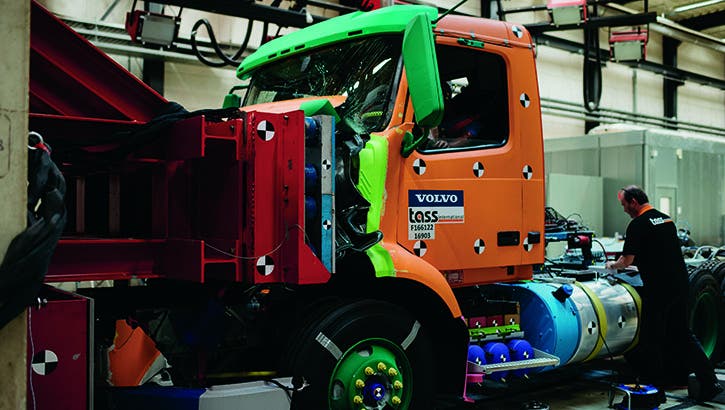 Industry-leading. Just in case.
Volvo is the only Class 8 manufacturer to make a driver's side airbag standard equipment in every truck. For added rollover protection, Volvo offers the Rolltek® seat, combining seat belt pre-tensioners, automatic seat lowering to increase survival space, and an integral side airbag that deploys for head and neck protection.