EMISSIONS TECHNOLOGY
POWERTRAIN
ONE-BOX AFTERTREATMENT
Volvo's "one-box" exhaust aftertreatment system offers smaller system packaging and reduces weight by 17 pounds compared to current systems. The one-box configuration provides better thermal encasing of exhaust energy, and improves muffler efficiency.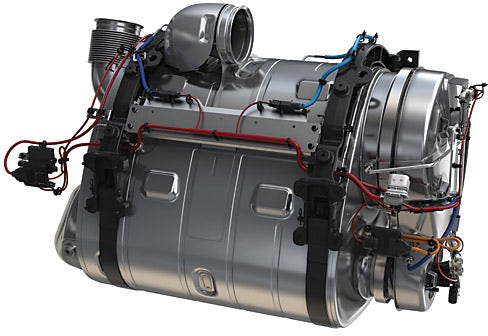 DRIVING NEAR-ZERO EMISSIONS
Volvo's Selective Catalytic Reduction (SCR) system is a superior solution to the EPA's emissions standards, not to mention a fuel- and cost-saving innovation for your fleet. Here's how it works: high-NOx/particulate exhaust flows from the engine to Volvo's diesel particulate filter (DPF), where much of the exhaust's particulate is removed. Next, before the exhaust reaches the catalytic converter, diesel exhaust fluid (DEF) is mixed in. The DEF and catalytic converter change the harmful nitrogen oxides into harmless nitrogen and water vapor, and the truck's NOx emissions register at near-zero levels. DEF allows the engine to use less exhaust gas recirculation (EGR), and maintain higher oxygen levels for better combustion.
And because this process happens automatically in most highway applications, you don't need any special training—saving you both time and money.
INTELLIGENT SHIFTING
The Volvo I-Shift makes drivers more productive, always monitoring grade, speed, weight, and engine load, shifting when necessary or holding a gear - whichever saves more fuel.
Choose Volvo