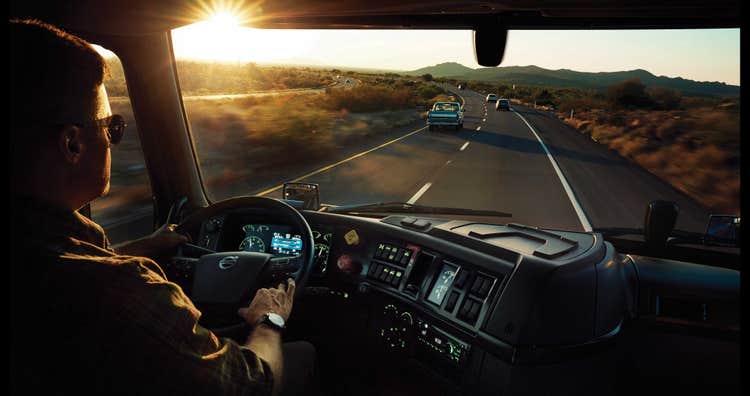 Not just workspace, a space that works
Designed with the driver in mind
NEXT LEVEL COMFORT
The VNL offers redesigned working and living spaces, optimized to put the driver comfortably in command, maximizing productivity. The seating has been ergonomically optimized, while the dashboard and steering wheel bring controls and information efficiently to the driver with minimal distraction. Our redesigned VNL sleepers make your drivers feel at home on the road.
Moving on up.
An integrated telescopic ladder is now standard in the VNL 760. Large steps make it easier to get in and out of the top bunk. And the ladder quickly locks in place behind the cabinet when not in use.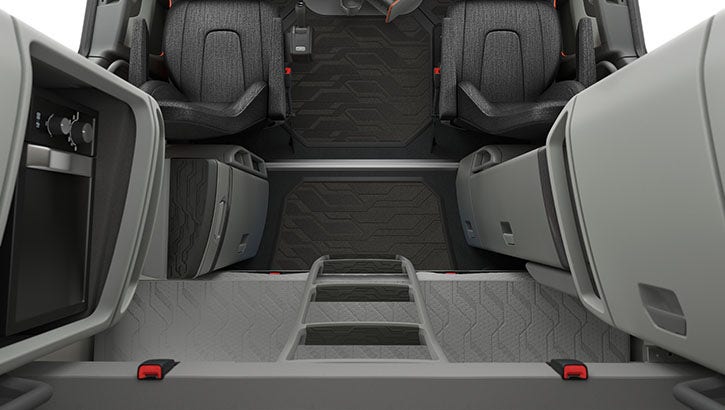 An industry first.
Volvo is proud to offer the first integrated, reclining bunk in a sleeper. Fully adjustable, it's like putting your favorite easy chair in the cab. In the VNL 760, the reclining bunk can still efficiently store away to use the optional table top workstation configuration.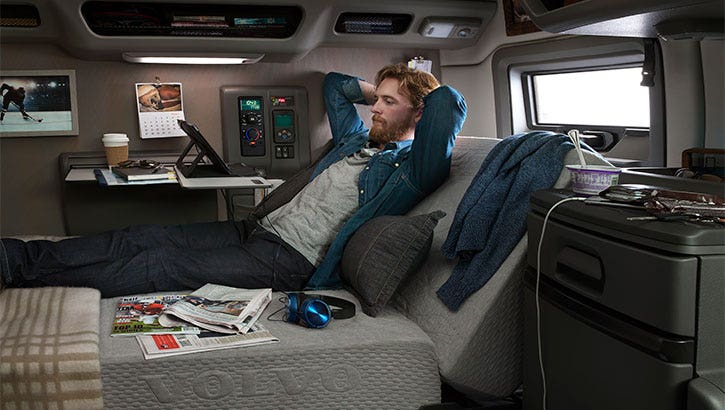 At your fingertips.
The sleeper control panel can be used to lock the doors, adjust bunk heating and cooling, set audio levels and close all shades simultaneously. An adjacent desk top swivels off the back wall for meals or laptop use on the bunk.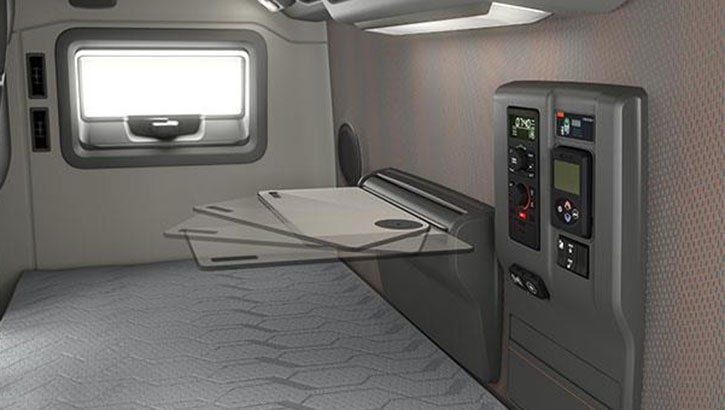 A New Level of Comfort
Throughout the interior, premium craftsmanship and innovative details like softer LED lighting, electrical outlets for the top bunk, easily reachable controls, smart storage arrays, larger refrigerator, removable floor mats—every detail was chosen to create a warm, clean, calming environment.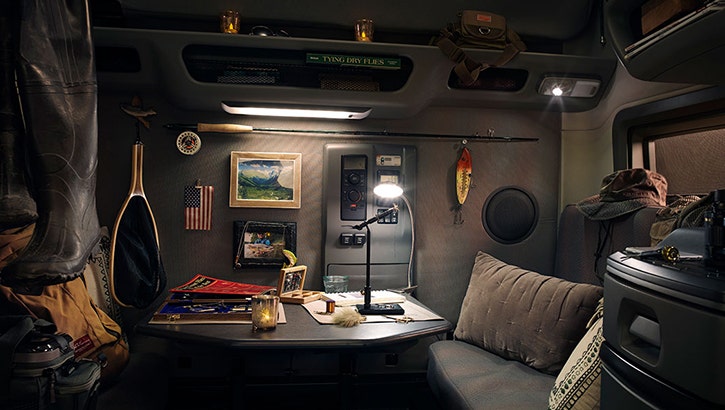 THE WORLD AT YOUR FINGERTIPS
To create a sense of a refined, performance-oriented product, our designers drew from F1 auto racing, where choices blend form and function. Every time the team improved something, they thought about how to improve it more.
EVERYTHING HAS BEEN IMPROVED
Position Perfect Steering
No two drivers are exactly the same, so we set out to design an optional steering solution that would be exactly the right height and angle, no matter who's behind the wheel. With a three-way neck tilt, driver's have an almost endless array of choices for positioning the wheel exactly where they prefer it.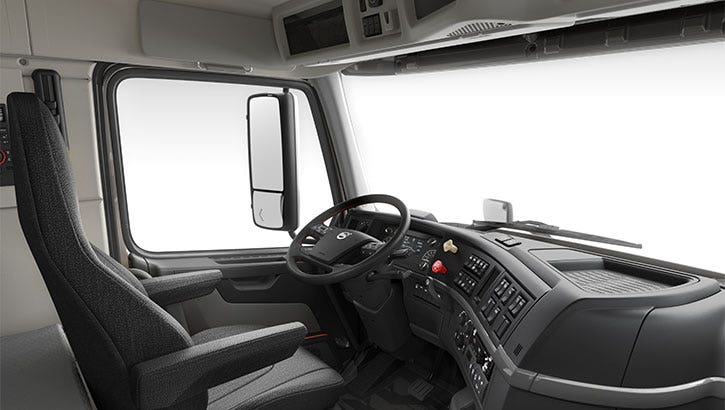 Driver information display
At the heart of the new and improved instrument cluster is a five-inch driver display, with improved graphics, works with steering wheel mounted controls to provide key operating parameters, as well access to trip information, performance data, and wide-range of vehicle diagnostics.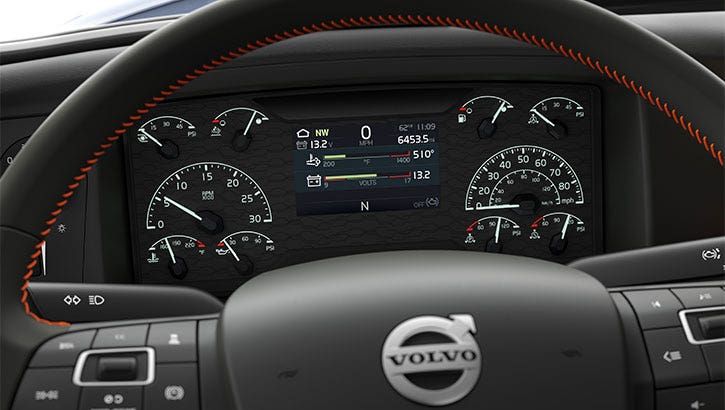 Infotainment system
The new infotainment system is optional in every VNL. It features a seven-inch color touch screen and an integrated premium audio system. Drivers can also choose to install navigation tools and a wide selection of third-party applications.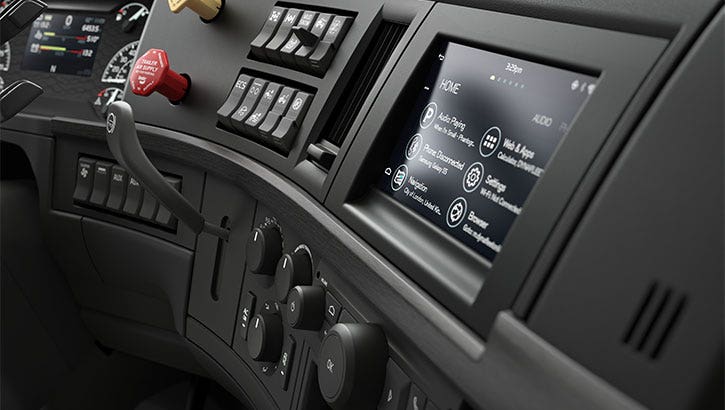 CUSTOMIZE YOUR RIDE
The Limited trim level features walls covered in our exclusive Longspur cloth with orange accent. The door panels are completed with our finest Longspur vinyl insert.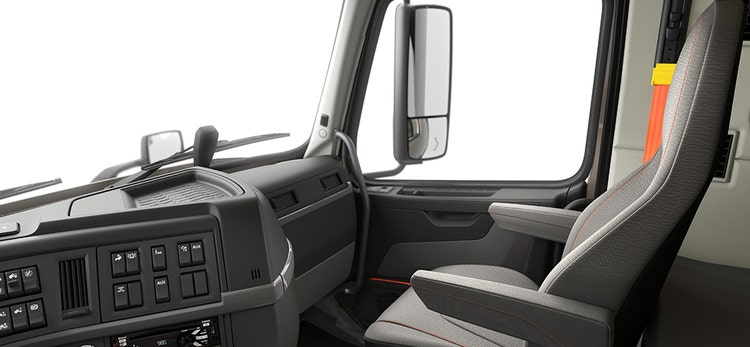 The Touring level trim package offers an interior of Heron cloth that creates a comfortable spacious feel for the driver. Door panels are accented with Wren vinyl inserts.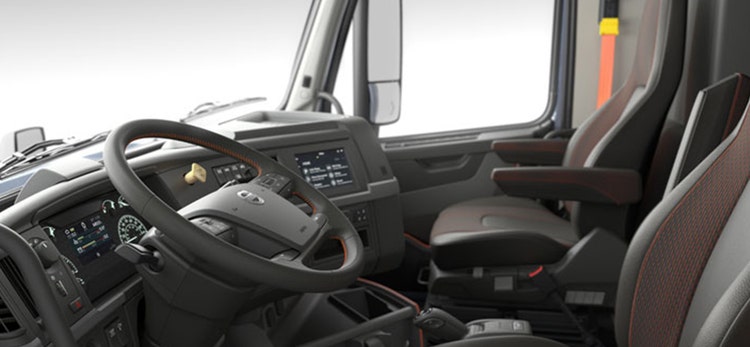 The Fleet level trim package features a Heron vinyl headliner featuring a dot matrix pattern and complementary vinyl walls. The door panels are accented with durable Wren plastic inserts.