Our most versatile truck yet
REGIONAL VERSATILITY — PREMIUM PRODUCTIVITY

Details Matter
Exterior Color Options
Work with your local dealer to customize a color to your liking. Choose your paint color from one of our solid, premium solid, metallic, or pearl options shown in this brochure.

VNR Fuel Efficiency Packages
Discover the Savings
Volvo Trucks now offers two Fuel Efficiency packages to increase fuel savings* when compared with our baseline offering. Our Plus and Advanced packages each allow you to tailor powertrain performance and maximize fuel efficiency for your specific application.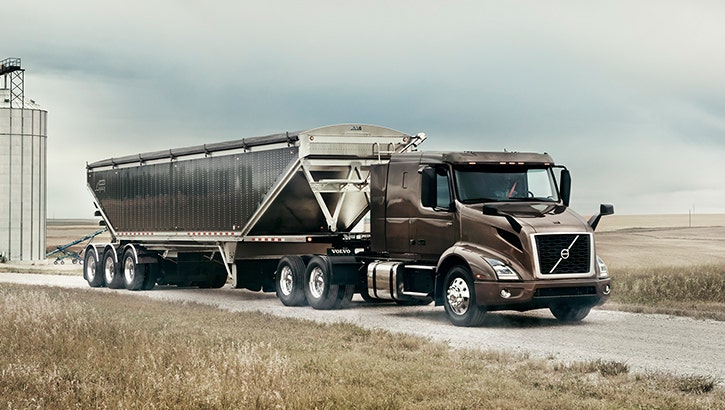 https://main--vg-volvotrucks-us--hlxsites.hlx.page/en-ca/our-difference/safety/active-driver-assist/
Active Driver Assist
Volvo Active Driver Assist is forward collision avoidance technology that helps drivers adapt and respond to changing traffic situations to help reduce the risk of collision.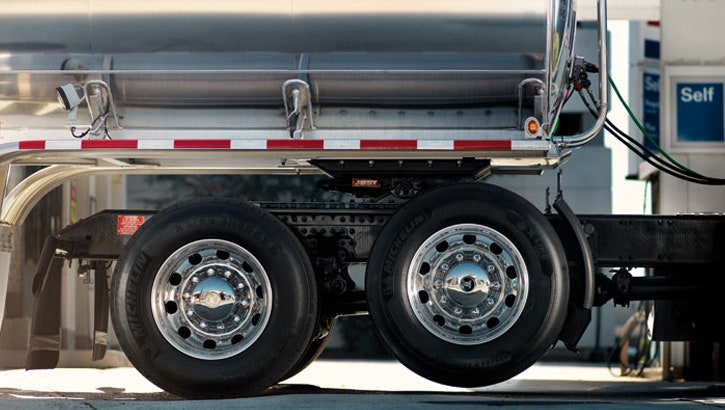 Adaptive Loading
Volvo's Adaptive Loading is designed to help trucks run at peak fuel efficiency and performance every mile of every haul. It senses weight differentiation and automatically lifts the axle to reduce friction and save fuel. From a full load down to an empty trailer, this integrated and automated technology makes every driver a more efficient driver.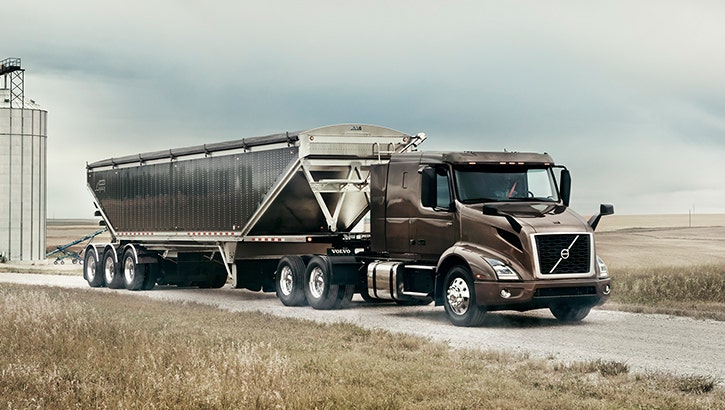 https://main--vg-volvotrucks-us--hlxsites.hlx.page/en-ca/trucks/powertrain/i-shift-transmission/i-see/
I-See Predictive Cruise Control
Combine I-Shift with an intelligent cruise control and you get I-See. It's a unique system that learns the topography of the road. Later on, it automatically uses its knowledge to save fuel when the intelligent cruise control is engaged.

Powertrain
Performance runs in the family
Regional haul requires power and performance. The Volvo VNR with the new D11 engine delivers a power-to-weight ratio unlike anything Volvo has ever made.
VNR Series Engines
Volvo D11
The Volvo D11 is a fuel-efficient, lightweight engine designed to improve reliability and minimize cost of operation. The D11 delivers performance competitive with larger engines, beginning at 325 hp and up to an impressive 425 hp at 1,550 lb-ft. torque.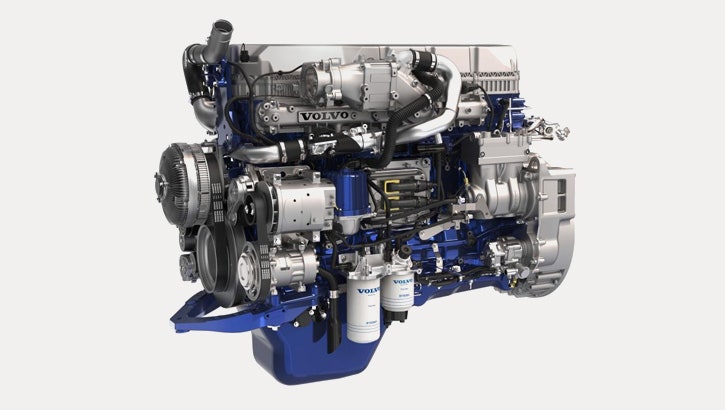 Volvo D13
The Volvo D13's efficiency & power improve operating costs, while meeting 2017 GHG emissions standards. Twelve power ratings are available, from 405 to 500 hp. XE, Eco-Torque, and Dual-Torque ratings provide "dual-personality" torque output for customers who desire the fuel economy of lower torque with the strong performance of higher torque.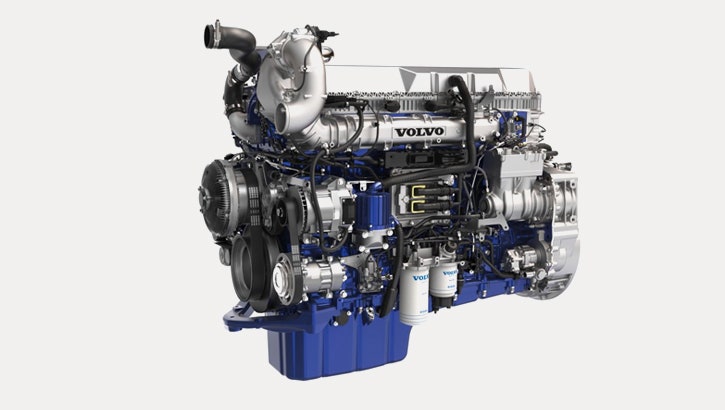 VNR TRANSMISSIONS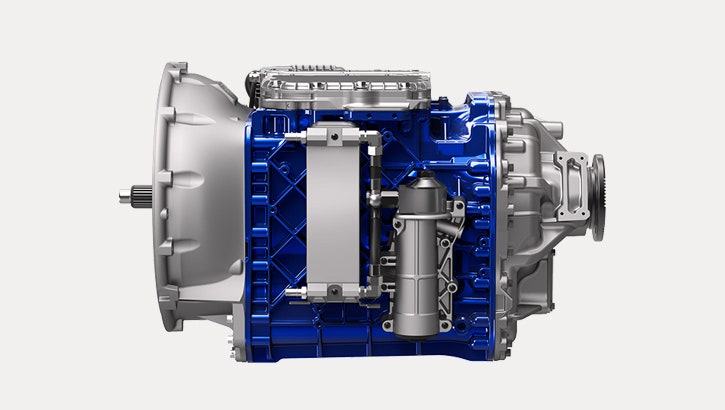 I-Shift
Our newest I-Shift makes every load more productive, using intelligent electronics to continuously monitor grade, speed, weight, and engine load, shifting when necessary or holding a gear—whichever saves more fuel. So regardless of experience, training, or application, I-Shift helps every driver become more fuel efficient.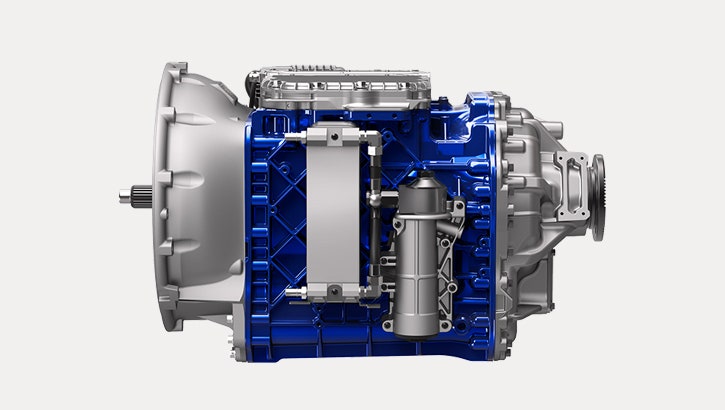 I-Shift for Severe Duty
The Volvo I-Shift for Severe Duty includes upgraded hardware and software, improved engaging sleeves for greater durability, and a countershaft brake for improved performance and smoother shifting. The electronic control unit can handle any load and any road, shifting perfectly every time. Clutch durability and torsional dampening are also upgraded. So the Volvo I-Shift not only keeps fuel costs down, it slows driveline wear, reduces noise, extends transmission life, and lowers maintenance cost.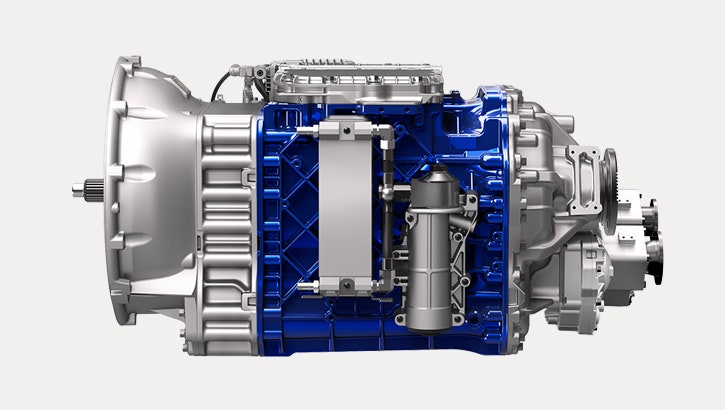 I-Shift with Crawler Gears
When steep-grade startability and low-speed maneuverability are critical, the I-Shift with Crawler Gears is the answer for maximum Gross Combined Weight (GCW) loads. The crawler option adds either one or two gears to the I-Shift, a low gear and ultra-low gear, for low-speed control.
The I-Shift with Crawler Gears' weight capacity is among the industry's highest for automated manual transmissions. It enables controlled forward and reverse travel at extremely slow speeds, perfect for paving and curbing applications. Upgraded software optimizes shifting for high GCW applications, allowing shifting to occur at higher revs, and enabling drivers to control downshifts.
VNR Standard Features
Volvo Enhanced Stability Technology
Volvo Active Driver Assist with forward collision heads-up warning
D13 with Turbo Compound Engine
Volvo I-Shift Transmission
LED headlamps with signature DRL and LED exterior lighting
Roped in 2050 sq.-in windshield
Black aerodynamic mirrors
5" High–Resolution Driver information display
Radio with USB and bluetooth
Tilt and telescoping steering wheel adjustment with pedal
Adjustable cup holders provided on modular rail
Remote diagnostics with Remote Programming
Upper bunk ladder (standard in the VNL 860, optional everywhere else)
Optional Upgrades (varies by cab size)
Volvo Active Driver Assist with Right Side Blind Spot Detection
Speed Limit Sign Recognition
Lane Departure Warning with and without Data Capture
Xceed Fuel Efficiency Package
I-See Predictive Cruise Control
Globetrotter Package for VNL 760 and VNL 860
Cab side fairings with extenders
Chassis fairing ground effects
Leather wrapped steering wheel
Position Perfect steering wheel
Heated and ventilated seats
Qualcomm, Peoplenet, and Omnitracs Prep kits
Infotainment with Navigation and Back up monitor
2.1 or 3.2 cubic foot refrigerator/freezer
Premium Innerspring Mattress
Workstation with Foldable Table & Cushions
Rear wall stowable tray table