Not just workspace, a space that works
Designed with the driver in mind
THE FUTURE OF REGIONAL HAULING
The driving environment in the Volvo VNR has been redefined to meet the needs of drivers operating in today's competitive marketplace. Improved seating, instruments and controls are designed to put the driver comfortably and safely in command.
Driving Environment
Position Perfect Steering
No two drivers are exactly the same, so we set out to design a steering solution that would be exactly the right height and angle, no matter who's behind the wheel. With a three-way neck tilt, driver's have an almost endless array of choices for positioning the wheel exactly where they prefer it.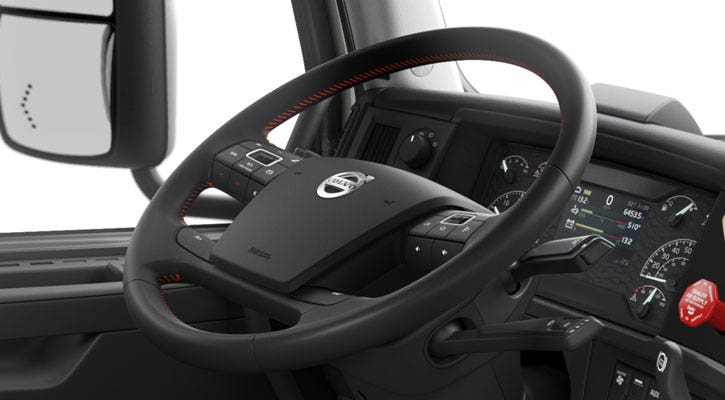 Configurable LCD screen
At the heart of the instrument cluster is a five-inch driver color display, with improved graphics, works with steering wheel mounted controls to provide key operating parameters, as well access to trip information, performance data, and wide-range of vehicle diagnostics.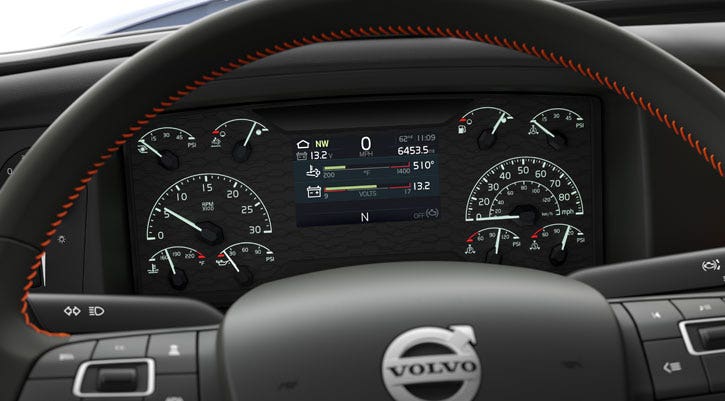 Infotainment system
The infotainment system is optional in every VNR. It features a seven-inch color touch screen and an integrated premium audio system. Drivers can also choose to install navigation tools and a wide selection of third-party applications.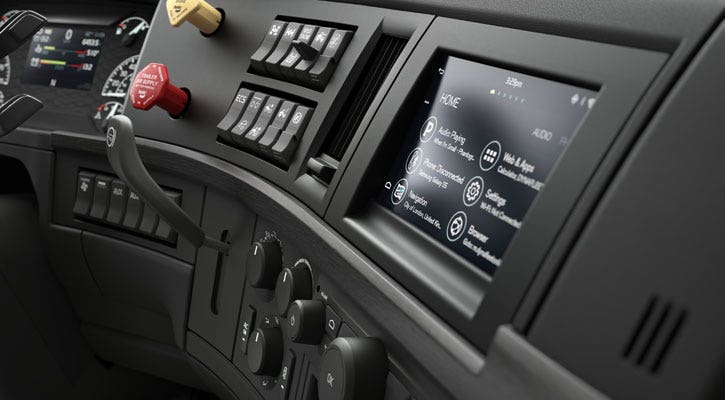 TO IMPROVE YOUR SLEEP, WE IMPROVED OUR SLEEPER

Volvo VNR sleepers offer premium touches that give drivers a comfortable place to relax and recharge when regional hauls require an overnight stop. With a 36-inch wide bed, the 42-inch flat-roof VNR 400 sleeper, the 61-inch mid-roof VNR 640 and high-roof VNR 660 sleeper provide ample room to rest.
A quiet place to rest.
A thick layer of insulation combined with some of the quietest running engines in the industry keep the cab comfortable and quiet whether you're down for an hour or for the night.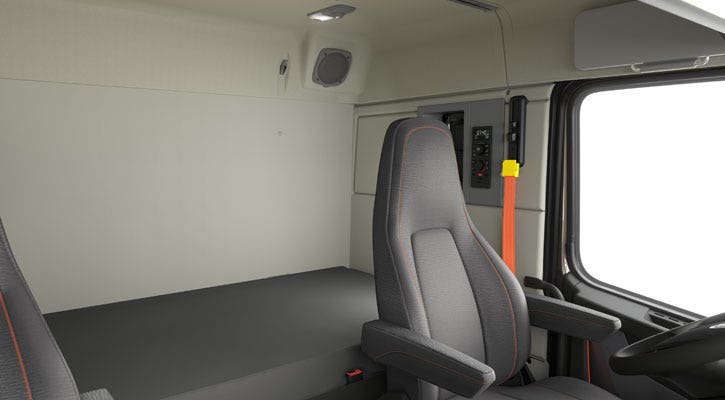 Don't get up.
The sleeper control panel can be used to lock the doors, adjust bunk heating and cooling, or set audio levels.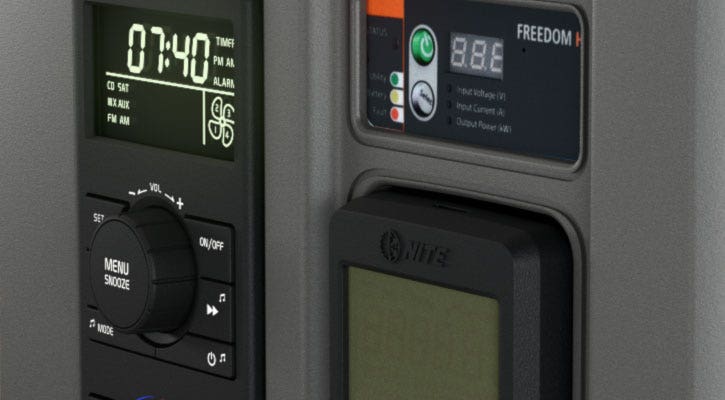 Snacks and Refreshments.
The VNR 640's cabinets can be configured to include a refrigerator or a microwave, so a hot meal or a cold drink can be available at any time.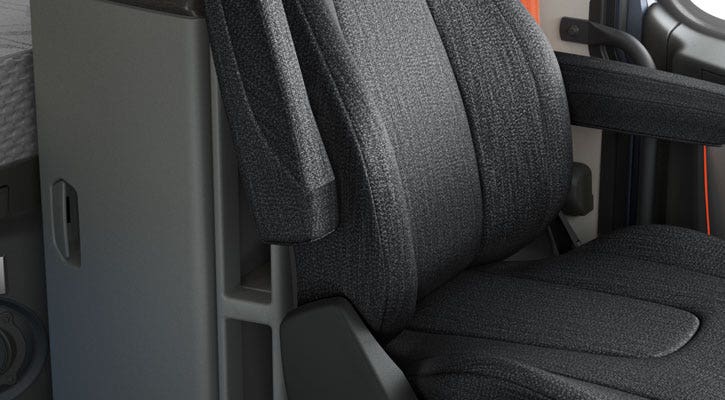 CUSTOMIZE YOUR RIDE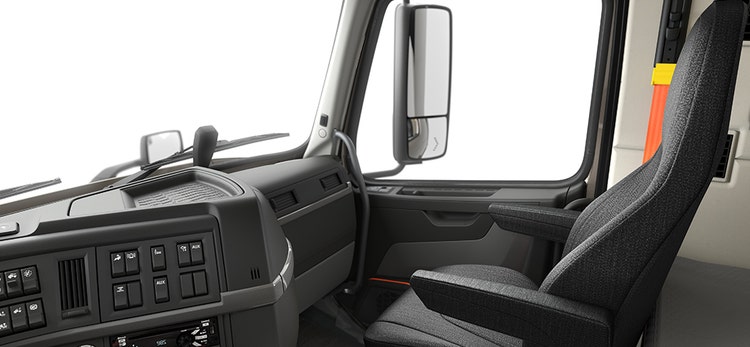 The Limited trim level features walls covered in our exclusive Longspur cloth with orange accent. The door panels are completed with our finest Longspur vinyl insert.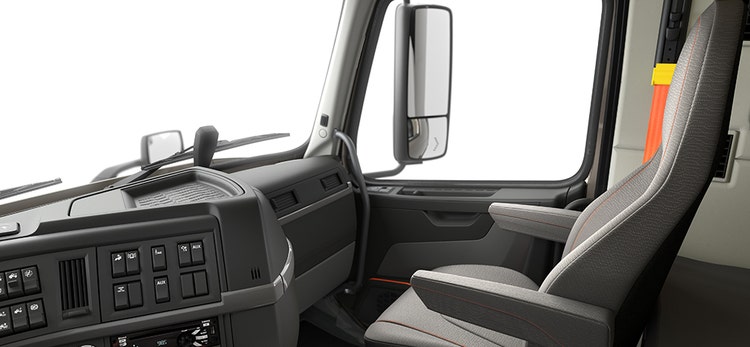 The Touring level trim package offers an interior of Heron cloth that creates a comfortable spacious feel for the driver. Door panels are accented with Wren vinyl inserts.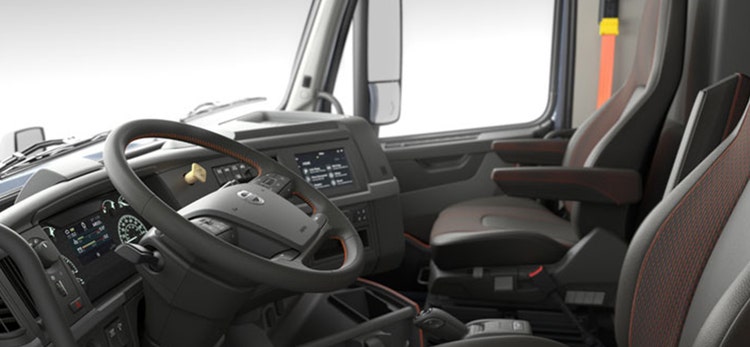 The Fleet level trim package features a Heron vinyl headliner featuring a dot matrix pattern and complementary vinyl walls. The door panels are accented with durable Wren plastic inserts.