See the difference every difference makes
Long-haul efficiency. Premium comfort.

Details Matter
Exterior Color Options
Work with your local dealer to customize a color to your liking. Choose your paint color from one of our solid, premium solid, metallic, or pearl options shown in this brochure.

Why VNX?
Reasons to love the vnx
From end-to-end, every feature of the VNX is built to stand up to any heavy-haul job you throw at it.
Improvements are easy to see throughout the VNX including the bumper, axles, suspensions, braking,
powertrain, and more. Every detail has been examined to increase durability and ensure you've got the
tools you need to move extreme loads.
Wide Tires
Tires bear a huge burden in heavy-haul applications. The VNX is engineered to handle rugged tires that must stand up to extreme loads on punishing roads and construction jobsites. The VNX can accommodate front axle tire sizes up to 445 mm.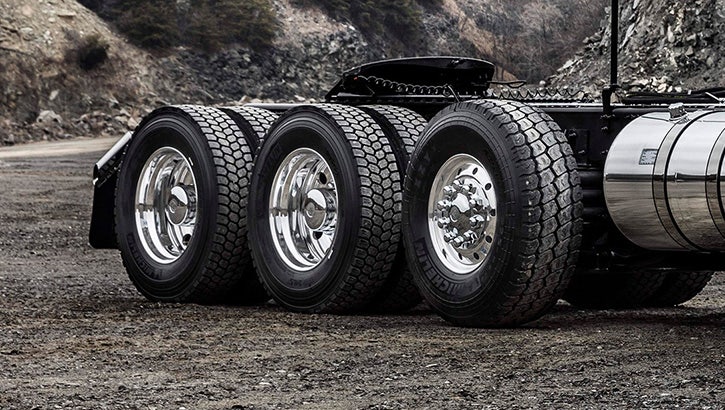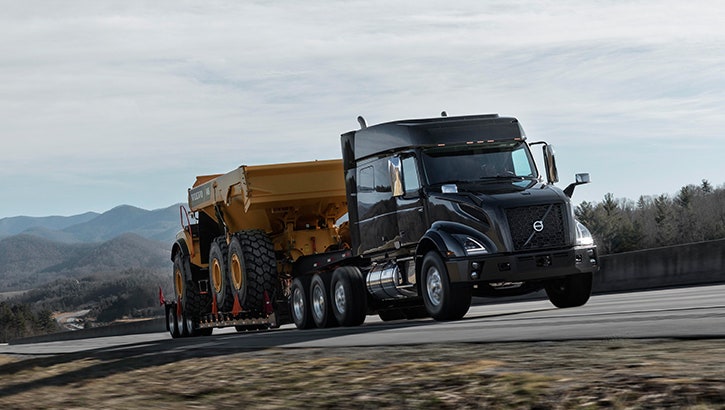 Durable Framerails
VNX framerails (side members) are constructed of 760 MPA heat-treated alloy steel with a yield strength of 120,000 psi. Several combinations of frame rail height, thickness, and liners are available to meet a wide variety of hauling requirements.
Fifth Wheel
Fifth wheels on the VNX feature a load capacity of 55,000 lbs. or greater and pull capacity of 150,000 lbs. or greater, ideal for trailer applications from low-boys to b-trains and long combination vehicles.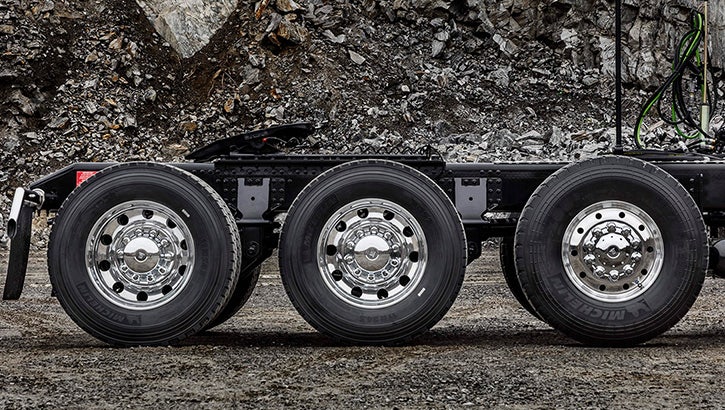 Powertrain
Performance and profitability meet
Heavy hauls require brute force and sharp wits. You'll need power to get the load moving and fuel efficiency to make a profit doing it. At Volvo, fuel efficiency is a vital part of our commitment to your business and the planet we all share. We believe that fuel efficiency is more than a single feature; it's a combination of customized solutions working together in perfect harmony. The result is fuel efficiency custom-built to help you cut operating costs whatever the load.
Power to Spare
Volvo D13
Volvo's family of engines builds on a foundation of prove, mature architecture, leveraging innovative hardware to maximize efficiency. Our ultra-reliable Volvo D13 500 hp, 1850 lb-ft delivers the power and torque needed to move large payloads with ease, even on the steep grades.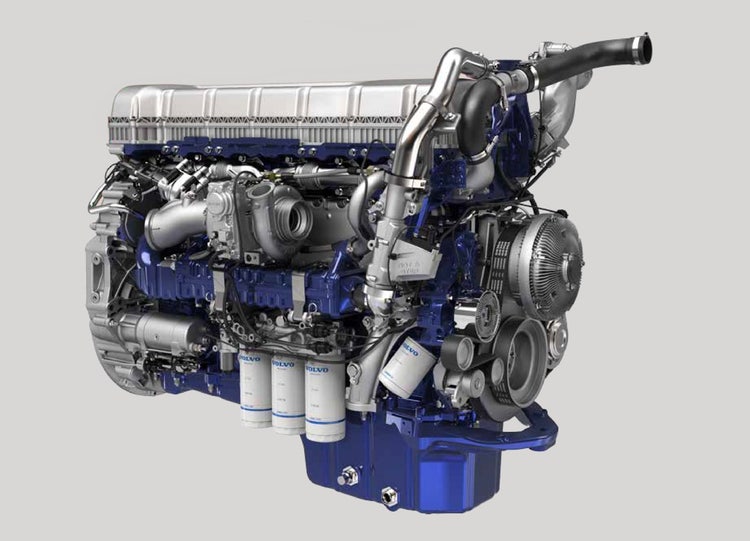 Cummins X15 Performance Series
Cummins is a valued partner in developing engines that deliver everything from better fuel economy to improved reliability and durability. The X15 Performance Series (505-605 hp, 1850-2050 lb-ft.) upholds Cummins' long tradition of innovation and dependability. It features Cummins' powerful engine brake with up to 600 bhp and the improved VGT turbocharger with an actuator that's more than four times stronger than previous versions.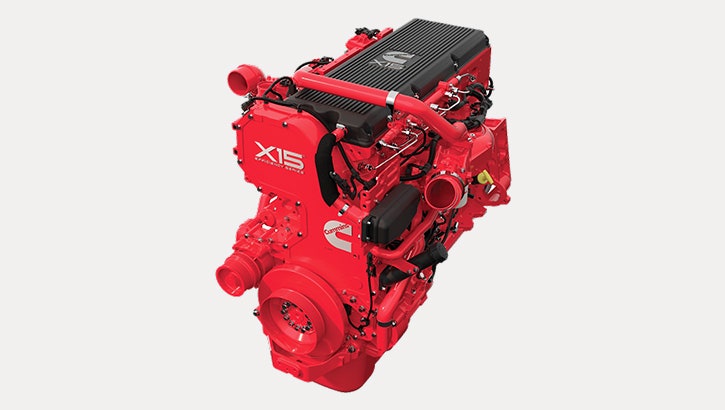 MAKE THE SHIFT TO LOW-SPEED STARTABILITY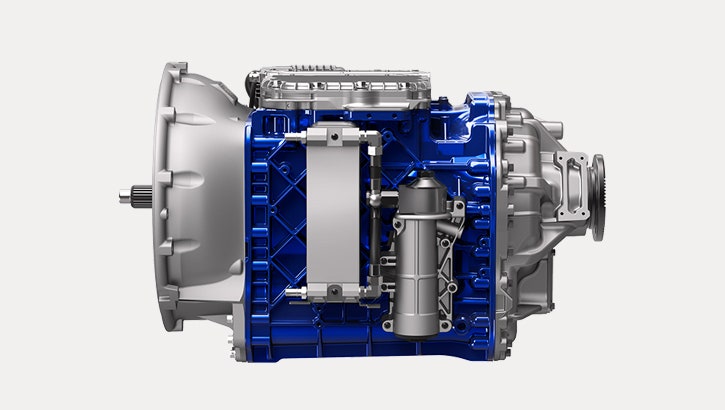 I-Shift
Our newest I-Shift makes every load more productive, using intelligent electronics to continuously monitor grade, speed, weight, and engine load, shifting when necessary or holding a gear—whichever saves more fuel. So regardless of experience, training, or application, I-Shift helps every driver become more fuel efficient.
I-Shift with Crawler Gears
I-Shift with Crawler Gears has a 1,900 lb-ft. torque rating. It includes upgraded hardware and software including a new countershaft brake for improved performance and smoother shifting. And the electronic control unit can handle any load and any road, shifting perfectly every time.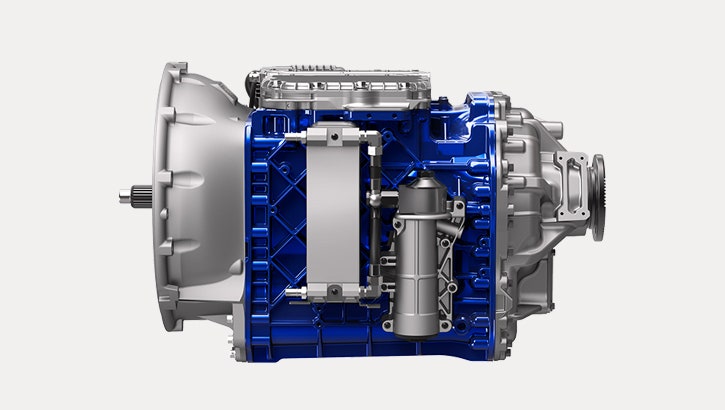 Transmission Cooler
I-Shift's transmission cooler optimizes fluid temperature in cold and warm climates, improving fuel efficiency even on heavy-haul loads. Connections throughout the transmission are also upgraded for faster maintenance stops.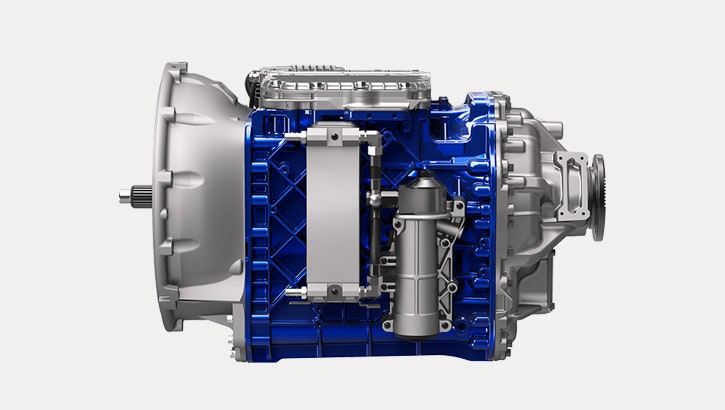 VNX Series Standard Features
Volvo Enhanced Stability Technology
Volvo Active Driver Assist with forward collision heads-up warning
D13 with Turbo Compound Engine
Volvo I-Shift Transmission
LED headlamps with signature DRL and LED exterior lighting
Roped in 2050 sq.-in windshield
Black aerodynamic mirrors
5" High–Resolution Driver information display
Radio with USB and bluetooth
Tilt and telescoping steering wheel adjustment with pedal
Adjustable cup holders provided on modular rail
Remote diagnostics with Remote Programming
Upper bunk ladder (standard in the VNL 860, optional everywhere else)
Optional Upgrades (varies by cab size)
Volvo Active Driver Assist with Right Side Blind Spot Detection
Speed Limit Sign Recognition
Lane Departure Warning with and without Data Capture
Xceed Fuel Efficiency Package
I-See Predictive Cruise Control
Globetrotter Package for VNL 760 and VNL 860
Cab side fairings with extenders
Chassis fairing ground effects
Leather wrapped steering wheel
Position Perfect steering wheel
Heated and ventilated seats
Qualcomm, Peoplenet, and Omnitracs Prep kits
Infotainment with Navigation and Back up monitor
2.1 or 3.2 cubic foot refrigerator/freezer
Premium Innerspring Mattress
Workstation with Foldable Table & Cushions
Rear wall stowable tray table