Rapidly-growing Oakley Transport uses connectivity to keep their food-grade tankers running on time coast-to-coast.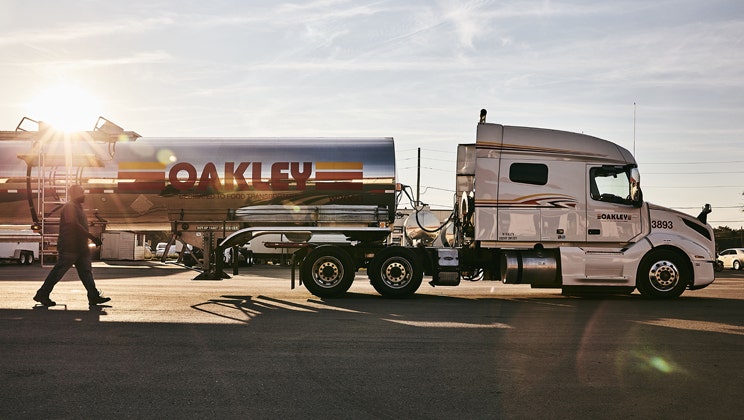 When he was a kid, Thomas Oakley loved trucks. "I always seemed to have more toy trucks than the other kids," he says.
In the early 1960's, Oakley's family invested in the citrus business, buying 20 acres of orange groves in Inverness, Fla. Even as he grew up and the citrus groves expanded, Oakley never forgot his childhood infatuation. He'd watch the trucks that hauled his fruit to the juicing plants and ponder how the steady demand for transport might flatten out the boom and bust risks that unexpected freezes brought to the citrus business.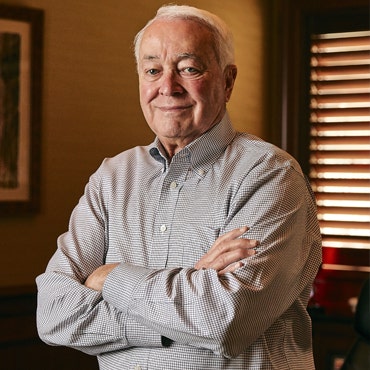 So, Oakley started buying used cab-overs and got into the slice of the trucking business he already knew a bit about—hauling food. "We had no idea at the beginning how specialized and regulated it is," Oakley says. "You're handling people's food."
Uptime is critical in the food business. Not only can temperature and time spoil loads, but entire factory runs—dozens of jobs—might be dependent on the scheduled arrival of truckloads of raw materials to process. Trucks can't sit on a repair lot in the hot sun. "There's a lot of pressure and a lot of risk, and we take that very seriously," Oakley says.
The secret to all this
Today, Oakley Transport hauls all types of foods—fruit juices, but also sugar and sweeteners, grain alcohol, vegetable oils, dry bulk—across the lower 48 states, Mexico, and Canada. Oakley operates terminals in Chicago, Louisville, Memphis, Atlanta, Savannah, Laredo, and Elizabethtown, Penn., and will soon open another in Cedar Rapids, Iowa.
"The secret to all this," Oakley says, "is, number one, you buy good equipment."
To Oakley, that means Volvo trucks. The Oakley Transport fleet is now comprised entirely of Volvos—535 of them.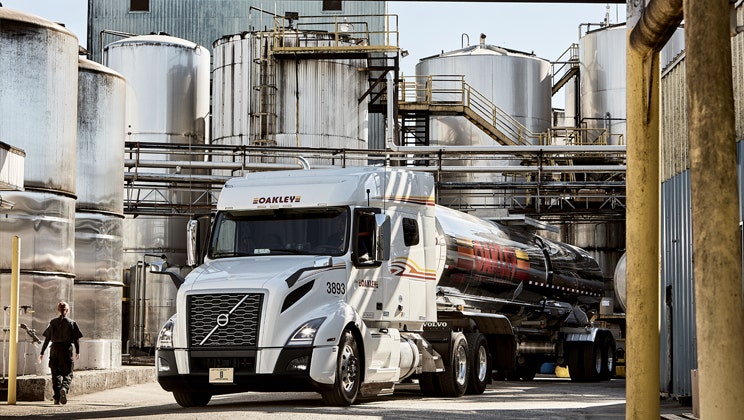 "We think Volvo is as good a truck as there is out there as far as reliability," Oakley says. "They've come so much further today with all the technology and the computer systems and that makes a big impact on our operation."
That technology, the computer systems Oakley refers to—Remote Diagnostics, certified uptime centers, Volvo's ASIST software platform, the suite of Volvo services designed to maximize uptime—are what keeps Oakley's fleet rolling on time.
Like breathing air to a driver
Pete Nativo helps, too.
Nativo, Oakley's Vice President of Fleet Solutions, came to Florida in 2011, over 20 years into a transport career, knowing at least two things: his wife was over Chicago's bitter winters and he liked working with Volvo trucks. Nativo also knew drivers, knew how important the little things like cup holders and a working ice-maker could be when you're living behind the wheel. And how the VNL's big 54-inch parabolic springs smooth out the ride.
But by the time he became fleet manager for Oakley Transport, Nativo knew something more important than that—he knew drivers need to be driving.
"That's like breathing air to a driver," Nativo says. "They have to have that truck up and going or they're not going to make any money. Uptime means everything to them."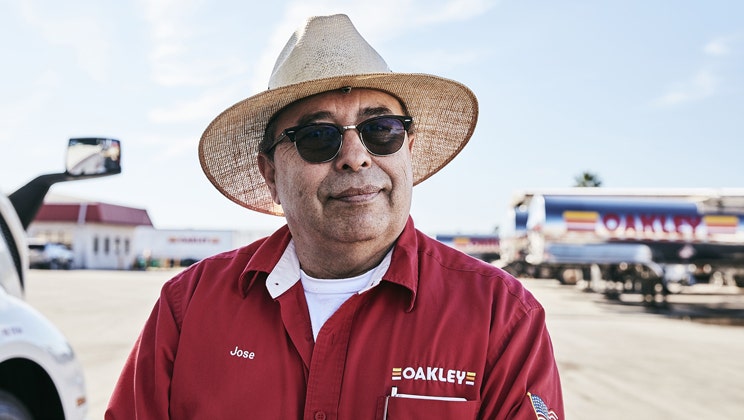 Volvo's Remote Diagnostics, Nativo said, is one way Volvo mitigates equipment issues before they become problematic. "We get calls from Volvo's Uptime Center alerting us to possible issues when we haven't even heard from the driver yet," he says.
That capability combined with Volvo's network of Certified Uptime Dealers and their unique repair triage dynamics are critical factors in Oakley's ability to keep people's food fresh and delivered on time.
Nativo remembers an incident when an aftermarket event-recorder camera was triggering codes on the fleet's trucks. The camera was pulling too many ohms from the trucks' J-plugs. Trucks were coding out, engines shutting down.
"We figured out the problem pretty quickly, but trucks were still getting towed when the code shut down the engine," Nativo says. But the network of Certified Uptime Dealers around the country—a sort of Volvo safety net—enabled Oakley trucks to pull into certified shops and have the camera issue repaired within hours.
"In another shop, they could have been backed up and sitting for four or five days just to change that little camera," Nativo says. "With the Certified Uptime Dealer triage, we can decide quickly if we need to send another truck to move the load for an on-time delivery. That Volvo technology really helps us take care of our customers. At the end of the day it's all about our customers."
Driver shortage? What driver shortage?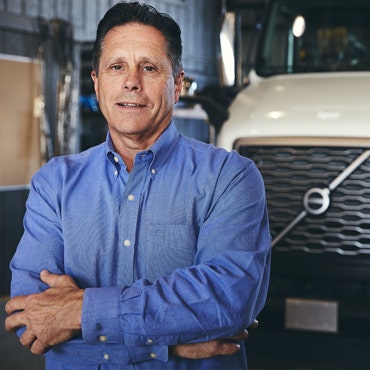 Thomas Oakley knows there is a nationwide driver shortage. He's not feeling it.
He thinks Volvo's reliability might be part of the reason why.
A long time ago, Oakley realized how helping drivers make money was critical to the fleet's success. The company hosts regular "tailgate" meetings, where drivers are invited to call in to discuss what could be better, and Driver Retention Committee meetings gauge how drivers are reacting to programs the company is implementing.
Volvo's creature comforts might impress drivers—"When we put drivers in a Volvo for the first time, they are so impressed they can't believe they haven't driven one before," Oakley says—but it's the Volvo technology maximizing uptime that wins drivers' hearts and wallets. That's what keeps them in the Oakley fleet.
"Volvo has done a great job of drilling down into the brains of a truck driver to find out what he really wants and then turning that into reality," Oakley says. "Volvo is on the cutting edge of everything they do."
Another kid who loved trucks
When he was a kid, Jose Ramos loved trucks. He was around them a lot because his family worked as migrant farm workers. Ramos has picked oranges, cucumbers, cantaloupe, strawberries, onions, cabbage, eggplants, cherry tomatoes (delicious), cotton (prickly), and watermelons (really heavy).
"Back then, truck drivers were known as 'cowboys.' They were always in cowboy boots and good jeans. They were polite and always had money. They would always buy you a soda or a hamburger," Ramos remembers. "I always wanted to be one of them."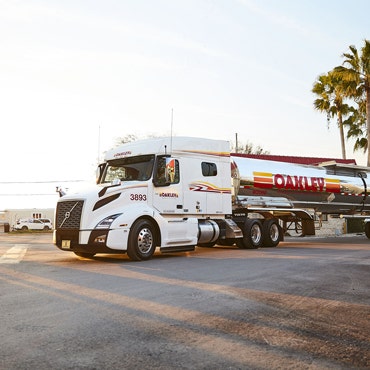 Ramos has grown up to do just that. Now 61 years old, Ramos has been driving professionally since he was 18. He could recite a long list of the things he loves about the VNL he's driven for Oakley for the past nine and a half years—the I-Shift that saved his surgically repaired knees, the seat that soothed his aching back, the mattress he says is like no other he ever had in a sleeper—but one incident illustrates the almost magical ways Volvo keeps his bank account as healthy as his body.
Ramos was hauling palm oil northbound into Ohio, climbing a hill, when a warning message appeared on his console and started beeping at him. He knew his engine would shut down within minutes. Ramos pulled over, cut the engine, set out his reflective warning triangles. Oakley Transport supports its own breakdown communications center; Ramos contacted them, relayed the vital information.
Within minutes, he received a phone call from an expert in Volvo's Uptime Center in Greensboro, N.C. The specialist told Ramos he was going to run a diagnostic check. "I thought, how in the heck is he going to do that if I'm here and he's there?" Ramos remembers.
The technician asked a few questions before saying he would reprogram the truck remotely. Then he told Ramos to start it up and drive. "I thought I was going to be on the side of that road for a long time. But whatever it was, I never had a problem again," Ramos says.
The palm oil arrived at the plant on-schedule, keeping Oakley's customer operating and the fresh food flowing.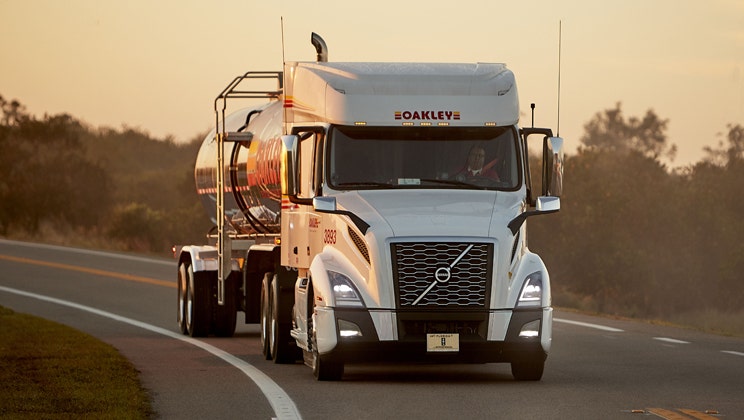 Related Content
Driving Progress
Get the latest product information, Volvo Trucks news and updates delivered. Sign up below.
ExceedingExpectationsSignup