Intelligent Shifting
Volvo Genuine Transmission
Volvo Genuine Transmission
Our newest I-Shift makes drivers more productive: using intelligent electronics to continuously monitor grade, speed, weight, and engine load, shifting when necessary or holding a gear—whichever saves more fuel. So regardless of experience or training, I-Shift helps every driver become more fuel-efficient.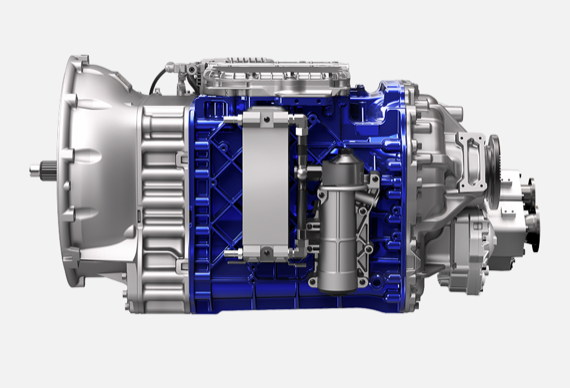 Shift To Ultra Low-Speed Control
When steep-grade startability, low-speed maneuverability, or maximum GCW loads are critical, the I-Shift with Crawler Gears is the answer. The crawler option adds either one or two gears to the I-Shift for Severe Duty, a low gear and an ultra-low gear, making it a 13- or 14-speed transmission.
• Enables controlled forward and reverse travel at extremely slow speeds
• Can haul up to 220,000 lbs (with component compatibility approval)
• Perfect for paving and curbing applications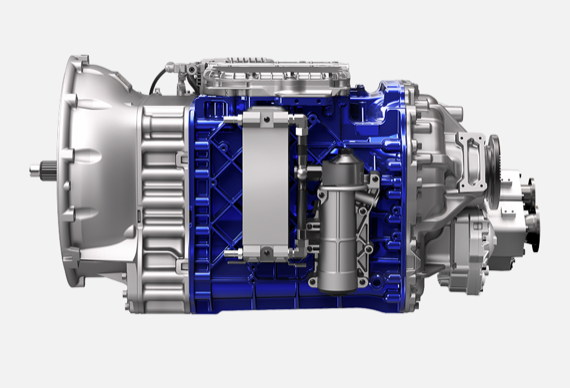 Built For The Toughest Jobs
The improved I-Shift for Severe Duty transmission is built for rugged applications. It can be found standard on all VHD models and is optional for all other models. The latest edition of the I-Shift for Severe Duty includes upgraded hardware and software, improved engaging sleeves, and a new countershaft brake for improved performance and smoother shifting.
• Able to provide PTO drive connections in three different positions (Front Engine PTO, Rear Engine PTO and Transmission Mounted PTO) for gear pumps, piston pumps or direct drive shaft connections
• I-Shift with the Performance software package offers the P+ Enhanced Performance mode, adapted for construction and heavy haul applications