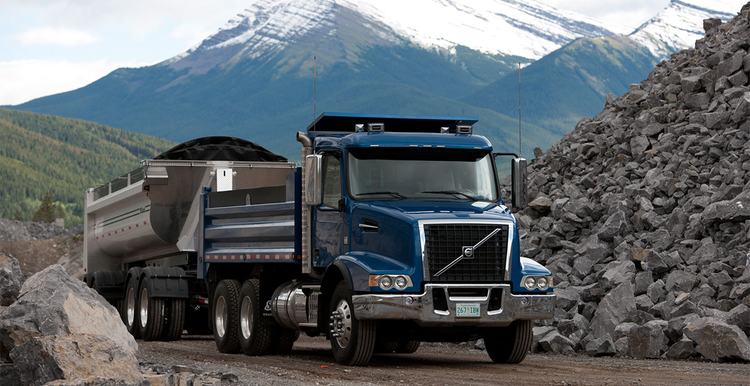 Body Builder Support
Use our integration services
For Body Builder Manuals prior to US 2010 Emissions, click below.

Welcome to the Volvo Body Builder Portal!
Require assistance with selecting the proper PTO or Hydraulic Pump for your customer's needs? Select Tools and Other Helpful Links to review the I-Shift PTO Pump Speed Calculator for PTO or Hydraulic Pump selection. For calculating Pump Bending Moment, review Other PTO Calculations Worksheet to determine acceptable limits.
GET BODY BUILDER SUPPORT MATERIALS
Request Custom Drawing
To request a PDF drawing or CAD file, please contact your dealer.
News & Events
source
/en-ca/body-builder.json
Frequently Asked Questions
Can I-Shift RMPTO be operated during Crawler Gear usage?
For the AMT 13 and 14 Speed Transmissions the Crawler Gears are mounted forward of the Transmission Main Case which in turn drives the transmission input shaft. This design will reduce the PTO Ratio when operated in Crawler Gears 1 or 2 (C1, C2). Should the reduced PTO Speeds affect the PTO Operation for your Application, the recommendation would be to use 1st or 2nd gear for PTO operation.
What is the minimum RPM I should operate my PTO, so that my vehicle will perform Regeneration during PTO mode?
Regeneration in PTO Mode - when a vehicle is being operated in PTO mode and a diesel particulate filter (DPF) regeneration is commanded, the engine must be run at a speed above the minimum speeds listed in the tables in Body Builder Manual, Section 9, Table of Contents / Regeneration in PTO Mode. The minimum speed setting can be affected by ambient temperature and/or altitude.
Can the I-Shift change gears while transmission mounted PTO is active?
When a I-Shift mounted PTO is engaged, it is only possible to move the truck in one gear (1st, 2nd, or 3rd) – the transmission will not shift gears when the PTO is active. The transmission will not disengage the PTO once it is turned on and recognized by the VECU or TECU via the factory-installed PTO switch.